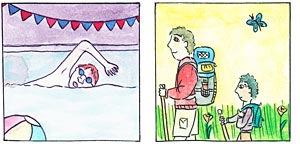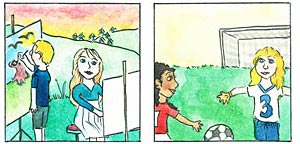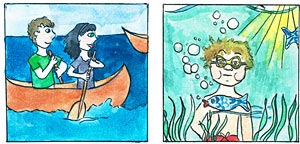 Camp drawing by Lisanne Carmel
2017 Marin County & Beyond Summer Camp Listings
Welcome to the 2017 edition of FastForward's annual Summer Camp Listings resource! It's your one-stop, convenient, all-in-one searchable reference for locally accessible residential and day use summer camps for kids. In addition to our own FastForward Adventure Reporters Camp, this year's selections include a full range of camps and workshops covering a full range of activities both entertaining and educational. Listings include a brief summary of each camp's activities, their dates of operation, minimum and maximum ages for attendees, their location and costs. Full information can be obtained by contacting camps directly. Be sure to book early as many camps tend to fill up quickly. Some also offer discounts for early registration. Browse and enjoy!
Day Camps
Want to create your own glee club, practice art in a fun environment, meet new friends, create your own TV show or movie—or even interview someone famous? Perhaps your style is flying down a cool Marin bike trail or learning about ecology while enjoying the awesome outdoors? Explore these lists—or use the SEARCH feature below—to find what summer fun opportunities are available for you!
Resident Camps
Ready to go? Campfires, arts & crafts and making life-long friends—all images that come to mind with sleep-away camps. Thousands of kids will be packing their duffles and heading off to camp this summer. Find out what it's really like. Check out these summer residential offerings for 2016—or use the easy SEARCH feature below!
Search Camp Listings
Looking for something in particular... perhaps dance, soccer or some other special activity—or perhaps camps that provide lunches, extended care, etc.? You can use our search function to help find those camps offering such activities and features!
Search for a Camp or Camp Activity