Performances at San Francisco's Orpheum Theatre
A&E VIDEO - July 2011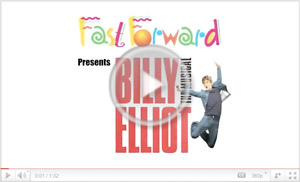 This past June, the gang from FastForward's Adventure Reporters Summer Camp received a special treat, a chance to meet with the five "Billies" who star in Billy Elliot: The Musical, now playing at the Orpheum Theatre in San Francisco. Watch the video montage the reporters put together about their experience.
Billy Elliot: The Musical
- It's been called Broadway's "BEST MUSICAL OF THE DECADE" by Time Magazine.
- Ben Brantley of The New York Times calls BILLY ELLIOT "THE MOST INSPIRING SHOW I'VE SEEN IN YEARS."
It's a joyous celebration of one young boy's journey to make his dreams come true. Set in a small town, the story follows Billy as he stumbles out of the boxing ring and into a ballet class, discovering a surprising passion that inspires his family and his whole community. A big musical with an even bigger heart, BILLY ELLIOT will enchant the dreamer in all of us.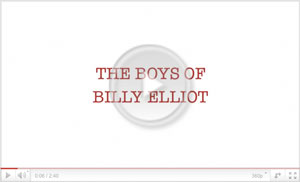 Here's another video—part of the musical's official publicity—that's an unscripted look at the five boys. They share their favorite foods, stories about the background, and what they love about the San Francisco Bay Area.
Billy Elliot: The Musical played at San Francisco's Orpheum Theatre in the summer of 2011.