Page 4 of 4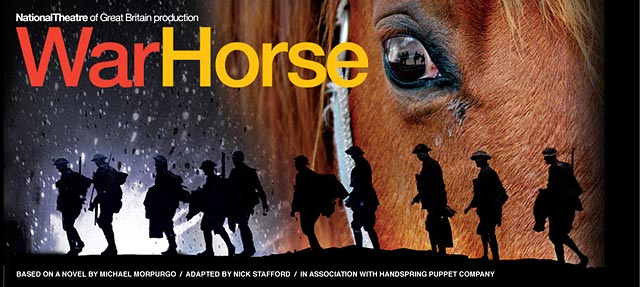 Not long after the play came out, director Steven Spielberg began adapting the story for the big screen. The movie came out around Christmas last year, and Morpurgo suddenly became very famous. He said that was not an easy transition for him. 
"A certain level of success can separate you from other people," Morpurgo said. "And as a storyteller, you have to be able to connect to people."
Morpurgo met Spielberg, and called him "one of the greatest storytellers of our age." the irony of this situation is that while Morpurgo, himself, may have more trouble connecting to people, his message has received a much wider audience because of the play and the film. And, Morpurgo admitted, seeing the film get made was pretty cool.
"That was fun," Morpurgo said about visiting the film set of War Horse. "There were a thousand people and 300 horses, and this man with a baseball cap was directing it all. He never had to raise his voice either."
Despite the success and the beauty of the stage and film adaptations, Morpurgo still stressed the importance of reading for young people. He said that reading is a creative exercise, and your brain needs exercise just the same as other muscles need exercise. It is also the way we learn to empathize, he explained. 
"If you're not literate," Morpurgo said, "you can't access information. And if you can't access information, you can't access knowledge. If you can't access knowledge, you can't access understanding."
Michael Morpurgo has changed many peoples' lives. His hometown of Devon, for example, is better off now that War Horse is a movie and play. Since it is a very small town, the money from new tourism has helped the citizens out. Many kids who have read his books have come to love and treasure them, and they have a better understanding of the world. Morpurgo started writing because children in his class were bored, and thank goodness they were!
War Horse played at San Francisco's Curran Theatre in September 2012.