Page 3 of 3
When they worked in Hengdian, China (the Universal Studios of China) for the period sections of the movie, Mr. Wang said that the atmosphere was very different from any other studio he had worked in before. There were other productions going on at the same time, and sometimes his actresses would think that Mr. Wang said 'cut' when it was really another director. He would ask, "What happened? I haven't called 'cut.'" Mr. Wang said that Hengdian was definitely a "funny place to work."
Mr. Wang comments on how he was always regarded as the director of one genre of movie after The Joy Luck Club—emotional Chinese dramas. "My whole career I tried to get out of boxes. People always box you in…I always want to try to get out of the box," says Mr. Wang. After he made Maid in Manhattan, his reputation changed, making him the "romantic comedy" director. He never fails to surprise anyone with a different genre of movie every time another one of his films comes out.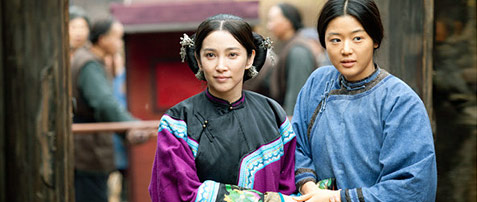 The actresses in this movie were China's Li Bing Bing (who played Lily and Nina) and Korea's Gianna Jun (who played Snow Flower and Sophia). Both actresses got along well and are very talented. Li Bing Bing and Gianna Jun have been in many movies. One of Li Bing Bing's movies is The Forbidden Kingdom (with Jackie Chan and Jet Li), and Ms. Jun's big breakthrough movie was My Sassy Girl. Also, Ms. Jun did not speak Chinese prior to this movie and was able to learn the language in a couple months.
The one statement that Mr. Wang wants to make through this movie is "that friendship, love, and hope are all things that we should strive for." In Snow Flower and the Secret Fan, Lily, Snow Flower, Nina, and Sophia's stories achieve that statement and will open many people's eyes to love, life, and most importantly, friendship.