Page 2 of 4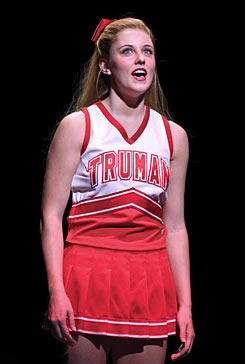 After watching the amazing show, FastForward got the honor of interviewing Jason Gotay, Elle McLemore, and Gregory Haney, three cast members who play important roles in the show. Jason Gotay plays Randall, a senior at Jackson High who falls in love with Campbell and shows her that life is too short to be stressing out over minor details; Elle McLemore plays Eva, a feeble sophomore at Truman High who Campbell takes under her wing but who ends up sabotaging Campbell and taking her role as cheer captain. Gregory Haney plays La Cienega, one of Danielle's closest friends at Jackson High who believes in embracing who you are. After surveying the experience level of these three actors, the diversity in the cast is truly evident. For both McLemore and Gotay, Bring It On: The Musical is the first professional show they have ever been casted in. As for Haney, playing a role in this show accompanies his list of performances in Wicked, Memphis, and Tarzan on Broadway.
Nonetheless, all three actors share a passion for their profession and are truly enjoying their experience on tour for Bring It On. "I got the acting bug earlier on and sure hasn't gone away!" remarked Gotay, who fell in love with acting at a young age after seeing the magical live performance of Beauty and the Beast. But for McLemore and Haney, their passion and talent in performing arts was discovered at a later age when they were in high school. In fact, for Haney, acting didn't become a part of his athletic lifestyle until senior year!
But somehow fate brought the three together for the cast of this show, and they couldn't be more pleased as they are currently performing and living in the heart of major cities such as Los Angeles and San Francisco while on tour for the show. When asked how the crowd of opening night of the San Francisco show was, Haney told us, "San Francisco was so rowdy for us!" He went on to describe the full house and how real cheerleaders were cheering in the seats prior to the show starting.