Page 1 of 3
Morgan Spurlock meets with FastForward to discuss One Direction: This Is Us
CINEMA - September 2013 Feature
By Lizzy Chadbourne; Senior, Marin Academy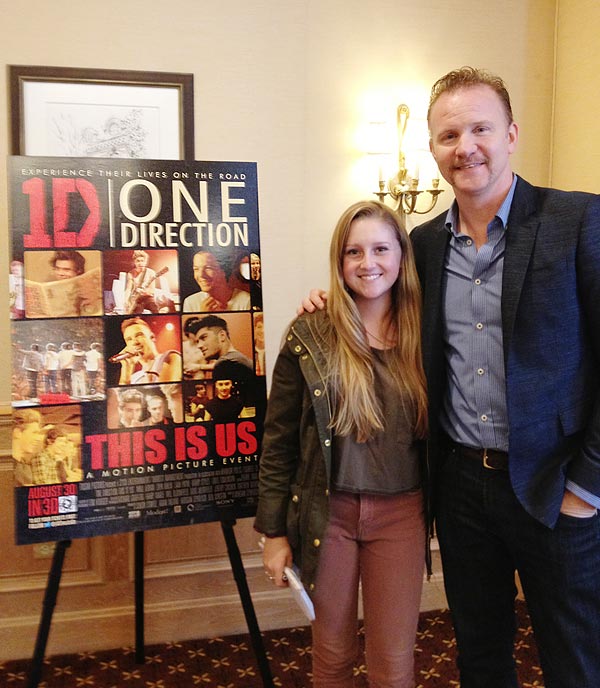 If you have ever seen the documentary film about the health impacts of eating fast food, Super Size Me (2004), you're probably familiar with Morgan Spurlock's work. The director/producer/writer has done many riveting documentaries such as Where in the World Is Osama Bin Laden? (2008), and his most recent film, One Direction: This Is Us is no exception. The film follows arguably the biggest "boy band" in history on tour and takes fans into concert halls, hotel rooms, the tour bus, and their hometowns. The film, shot in hyper-realistic 3D, gives viewers a sense of who Louis, Harry, Niall, Zayn and Liam really are behind the mask of their extreme fame.
"Their story is a great story," says Spurlock when asked about what drew him to the film. He describes the experience of making the film "fun" and "a thrill," especially in contrast to some of the films with more serious topics he has worked on in the past. But Spurlock also characterized the process as "a big undertaking." He was given the release date practically on day one of the job, and he knew how much work was ahead of him in the following ten months, resulting in an intense and fast-paced process.
Originally the five members of One Direction auditioned for the British television show, The X Factor, as solo artists. After the five of them did not make it to the finals of the competition, Simon Cowell made a decision that would not only change the lives of the band members, but also the lives of millions of "Directioners" around the world. He put them together in one band, and they immediately came up with the name One Direction, got to know each other, and competed in the competition as a group, ultimately finishing third.