Google Earth
By Jacqueline Chin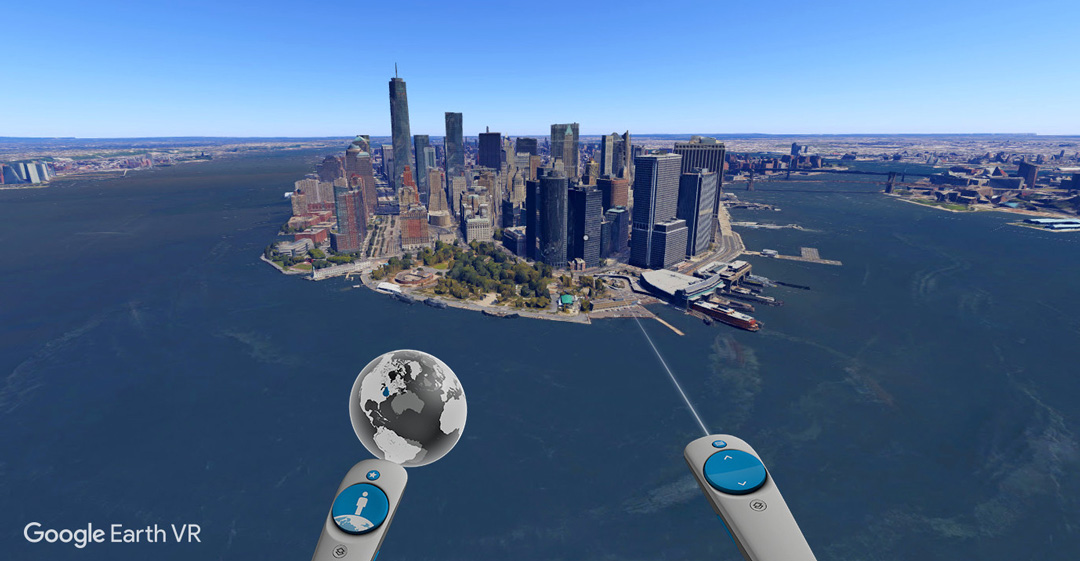 Imagine falling asleep one night and waking up in a world with no boundaries and great freedom. That experience gives you a break from the distractions or annoyances that constantly nag at you: those texts, those Snapchat notifications, that brother or sister stealing your stuff, the early morning days, that high-level stress, or for some, the boredom that floats like a storm cloud above your head. It is a world where you have the opportunity and will in your hands to explore our entire home planet. That portal to that world is accessed through the Google Earth VR (virtual reality) experience, one that immerses you in a virtual world, where only the sky is the limit. Google Earth VR experience in the Vive virtual reality set has all the power to bring to you to the lush Amazon rainforests, the dynamic African savannahs, the mighty Himalayas, the bustling city of San Francisco, the rolling hills of France, or any other destination that you have a desire to visit.
Google Earth in VR is a mind-blowing adventure. It is not a mouse or keyboard, but has an emphasis on the idea of having a hands-on experience. The creators, producers, engineers, and contributors do an excellent job of navigating you through the application. With easy controls and a simple layout, an amateur can quickly pick up the fundamentals of Google Earth. You have countless opportunities to make your own exploration unique. There is the ability to zoom in and out from the perspective of being face-to-face to the earth or the perspective of being upright, meaning your head is pointing toward the sky and your feet toward the ground. A model of the earth on one of your hands while zoomed out permits you to move to another part of the world within in a short time. Another amazing highlight is the power to interchange between day and night, or if you prefer, stick with a sunrise or sunset in your pursuit. Furthermore, a recent upgrade to the application now allows you to do a 360-degree rotation in street view. Google Earth has flexibility, efficiency, and simplicity in its design intended for people of all ages.
However, the virtual reality experience in Google Earth has some downfall aspects that you should be aware of. Although it is thrilling to sail over the planet, the sudden and sensitive movements of flying and rotating can cause a feeling of motion sickness or dizziness. Also, the street view does not allow one to travel along the streets, and some countries do not even have the feature of street view. In addition, something that would greatly boost the beauty of the experience would be adding the city lights, especially when the day is turned into night. Do not run away, though,...
Google Earth VR is one you will not miss.
The Google Earth VR experience can be of prominence in a lot of fields, especially in education. For example, kids and teens can learn of the roles geography play that impact people's lives all over the world. Adults, too. Hopefully, one day, you will wake up and find yourself.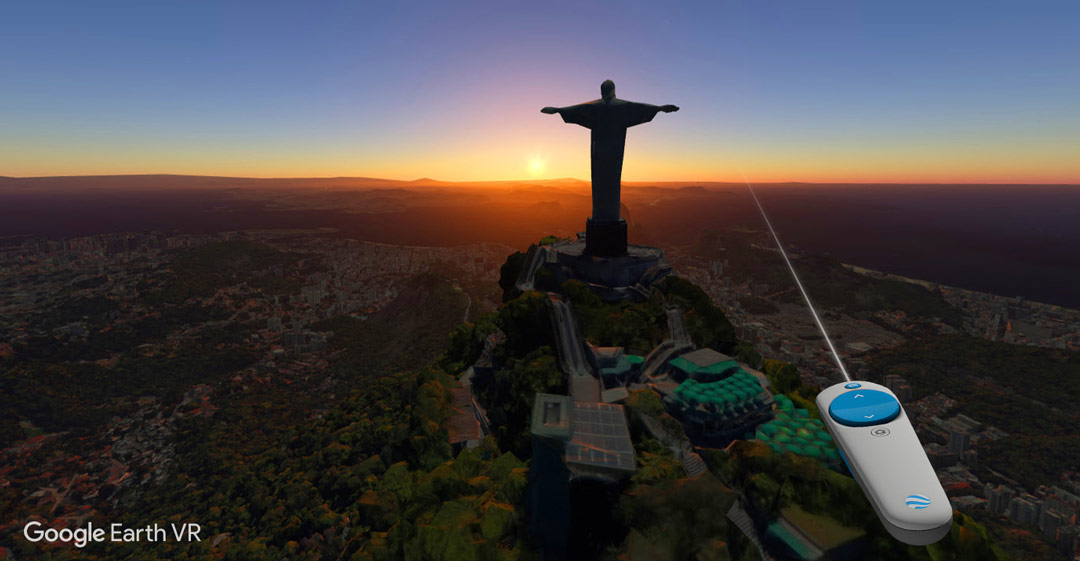 CATEGORY: Experience
RATING:
Immersion 3.5/5
Innovation 4/5
Ease of Use 4/5
Educational Value 5/5
Overall Score 4.5/5
---
Mission:ISS
By Pio Valenezuela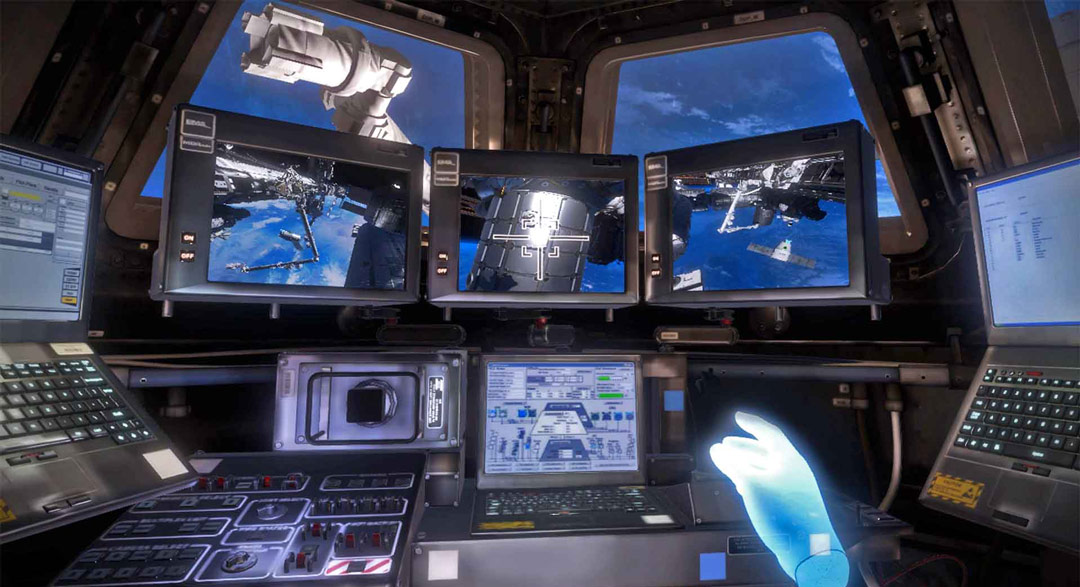 It's your first time aboard the International Space Station. You look around, eager to explore an accurate, virtual reproduction of the ISS. A voice tells you to press forward on the left thumb stick to activate a thruster, and you move. That's when it first hits you. - your momentum keeps
going so you push back to stop—only, you've pushed back too far and now you're traveling backwards. Because you travel in the direction you're looking, you're now floating diagonally instead of having gone just straight forward and back. Within the first few seconds, you realize fully—you're in the microgravity experienced daily by real ISS astronauts. As I first learned how to move through the space station, I was fully disoriented, even feeling dizzy for a split second as my mind tried to fight the strangeness of floating freely. I should be falling downward, shouldn't I? Only, as Einstein and other great physicists have taught us, up, down, left and right are all relative concepts—Mission: ISS engraves this concept into your body, even though you're not truly there.
The experience attempts to mimic what real astronauts at the ISS go through. You can move with thrusters, but you soon learn it's often easier to grab hold of a bar or even the walls and push or pull yourself to your destination. You explore the station and learn exactly what science occurs in each node, which part of the world is responsible for its existence, and even what it's like to wash your hair in space. In the game's exact replica of the space station, you can point at real objects used by real astronauts as panels pop up to teach you about them. While moving around and looking at everything can be difficult at times—that's part of the experience, as it is by no means an easy job for our astronauts either. Being in space is something only a handful of people can experience personally, but this VR experience comes close and does all it can to ingrain that experience into your body.
SUMMARY
Mission: ISS is a great look into the life of an astronaut. Movement can be difficult, so if you get lost you can easily reorient yourself by pulling up a tablet and picking a room; but a huge part of this experience is the exploration. Its producers—Magnopus—did their research fully. And with the help of media and information straight from NASA, floating through the space station in all its glory, while learning a lot along the way, becomes an attainable dream for anyone. Plus, viewing an atmospheric computer-generated Earth from the view of the ISS beats zooming out on Google Earth. This simulation is perfect for space enthusiasts, science-lovers, and is a great experience for anybody who's ever been curious about the Universe.
CATEGORY: Experience
RATING:
Immersion 4.5/5
Innovation 4/5
Ease of Use 4/5
Educational Value 5/5
Overall Score 4.5/5
---
DreamDeck
By Anna Silverman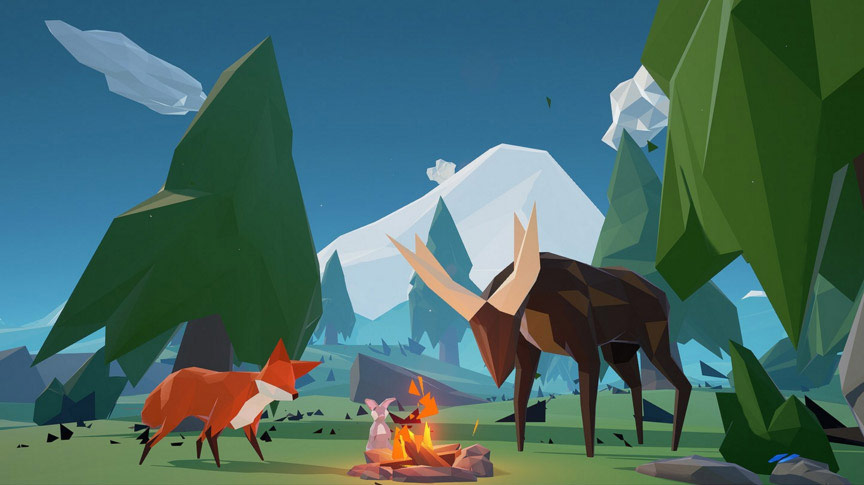 All you can see is darkness. Pitch-black, empty, unknown darkness. It's only you, alone, but you aren't there either. If you put your hand in front of you, it doesn't appear. You have no body, even though you the scenery moves when you turn your head skyward. It's like being surrounded by an opaque fog, thicker than through which the eye can see. The terrifying aspect of lack of control fills you as it dawns upon you that you have no power. Every action you make has no impact on your environment, no matter what you do, this world will continue, with or without you. You are completely and totally powerless, but never useless. You are alone, in this world, this imaginary world generated from someone else's mind that appears so real.
Suddenly in DreamDeck, you're immersed into a bright, colorful world of geometric animals and triangles of fire that have no heat attached. Then your sight shifts to black and a new world emerges. You stand on top of a ledge protruding from a building in an industrial steampunk world. The machines whir around you, and you overlook a busy city street. Another world is one of aliens and even dinosaurs. Anticipation grips you in this 3D world that tricks your mind into seeing imaginary depth in a screen. DreamDeck is an awakening and exhilarating experience, that always leaves you wanting more.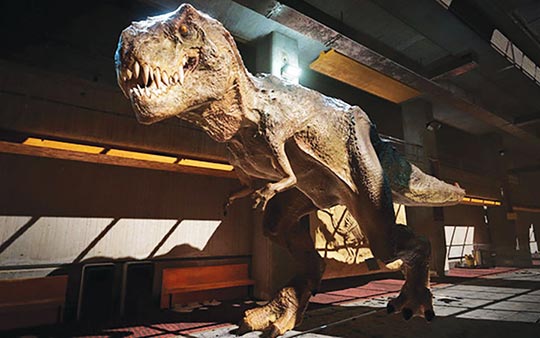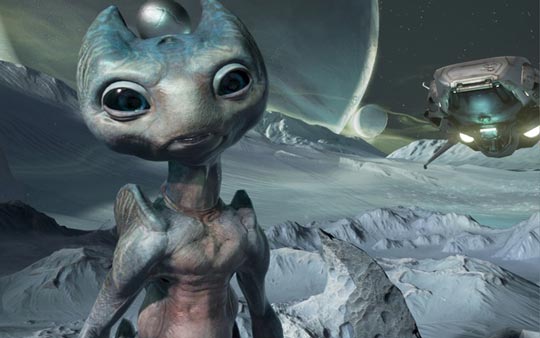 CATEGORY: Experience
RATING:
Immersion 5/5
Innovation 5/5
Ease of Use 5/5
Educational Value 3/5
Overall Score 4.3/5