FEATURE INTERVIEW - July 2016
Vernon Davis: Football Legend
FastForward Speaks With Football Legend Vernon Davis At BottleRock Napa 2016
By Matt Geffen, Student Editor
The Washington Redskins' Vernon Davis is a difference maker. As one of the most successful tight ends in NFL history, Vernon won a Super Bowl victory with the Denver Broncos in 2016 and was drafted sixth overall in the nation by the 49ers in 2006. You might be surprised to learn that football is just one corner of Vernon's talents and successes, as he also employs his celebrity and wealth as a philanthropist, helping to make a difference in the health and education of America's youth through his partnership with KRAVE Jerky and the Vernon Davis Foundation for the Arts. On our third day at BottleRock Napa 2016, Vernon takes a break from the line of eager fans waiting for pictures and autographs to speak with FastForward reporters about his partnership with KRAVE and the Vernon Davis Foundation.
When asked what brings him to BottleRock, Vernon says, "I'm here to promote KRAVE Jerky, as well as show off my culinary chops. As we all know, KRAVE Jerky is all natural, gluten free, started a few years back—they've been able to attack the market in so many different ways. The partnership I've had with them has been extraordinary. I wouldn't replace it for anything in the world." Vernon has been working with the company for three years as one of their most influential ambassadors, promoting the brand in the Bay Area and beyond.
Vernon cites both the brand's mission and actual products as reasons for his long running endorsement. He comments, "They've also started a KRAVE Better campaign where they're pushing people to demand more out of life, especially with healthy and great food, food that tastes good. A lot of times you have these products that are high in protein—if you look at the nutritional facts, everything looks good, but does it taste good? Is the taste there? And that's what they're all about, especially these new bars they came out with." Vernon says his favorite flavors are Basil Citrus and Black Cherry Barbecue. Davis' collaboration with KRAVE focuses on health and nutrition, but providing arts education for youth is another one of Davis' passions, which he supports through his philanthropic organization, Vernon Davis Foundation for the Arts.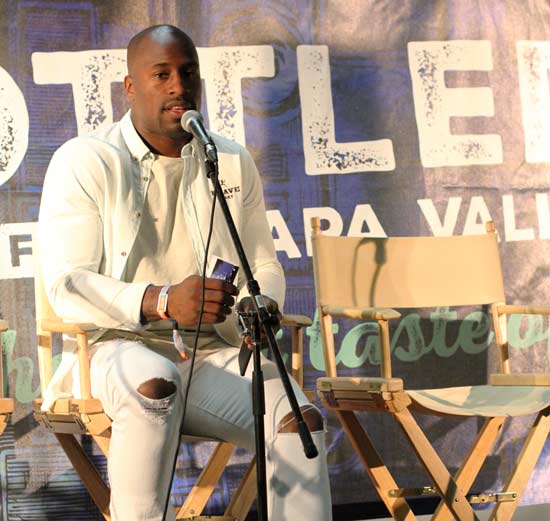 The base for Vernon's foundation began in 2010 with the Vernon Davis Visual Arts Scholarship Fund, eventually using his platform to create a foundation that "encourages youth to find new ways to express themselves, to lift themselves and fulfill their dreams." Emphasizing the importance of activism, he says, "Vernon Davis Foundation for the Arts was created to promote art education as well as art appreciation among the most disadvantaged youth and we plan to fulfill our mission by giving arts scholarships to dedicated students." Vernon sees parallels between his own foundation and KRAVE Jerky, underlining, "If you don't have a message, you don't have anything. And KRAVE has a fantastic message—you know, and one thing that I love about them, they're all about the unexpected. And they use that slogan everywhere they go. 'Life is all about the unexpected.'" He continues, "The Vernon Davis Foundation for the Arts, we're always trying to cultivate relationships with different foundations so that we can merge and make life a lot better."
"My goal was always to be a difference-maker. I don't want people to just remember me for Vernon Davis the football player, I want them to remember me for doing a good deed, philanthropy, spreading a good message through the platform of football, right? And the way you do that is by being a good example to the younger kids and just sending a good message—and you can do that by just being in line and doing the right things." As different as Vernon's work on and off the field is, it is clear he continues to bring positive results, small steps in his larger goal of making the world a better place.
For more information on Vernon Davis, go to www.vernondavis.com. You can learn more about KRAVE Jerky at www.kravejerky.com.