Page 1 of 3
Cheryl Jennings and the team at the abc7 News studio give FastForward reporters a behind-the-scenes look at what goes into broadcasting the news
MAY 2010 FEATURE INTERVIEW
By Isabel Alamin, Gabriella Bello, Joseph Blair, Gemma Callandra, Miguel Friedman, Ella Hoberman, Kendall Islam, Jack LaMarre, Elise LaMarre, Talia Rizzo and Christine Watridge - rom Del Mar Middle, Hall Middle, Lycee Francais La Perouse, Mill Valley Middle, Miller Creek Middle, Old Mill, Redwood High, Ross, Sinaloa Middle, Saint Hilary, Ross and Tam High Schools
Our group of reporters eagerly looks around, taking in the scenery of the abc7 News station where Cheryl Jennings and her co-workers put on their daily news show. Walking through a jungle of wires and equipment, we step into the only open space to see a camera smoothly gliding across the floor. "Stand by. Ten seconds" Joey now says, the cameras positioned for action.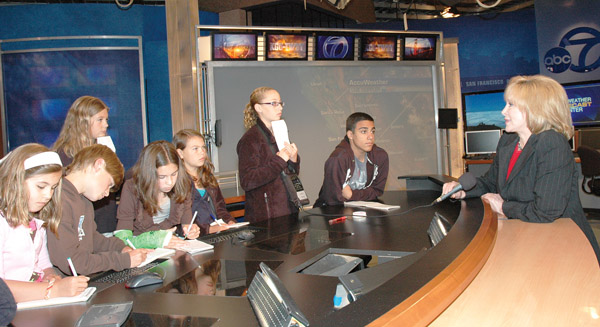 This is the home of Emmy-winning Cheryl Jennings and the Channel 7 news team. To witness the confident and effortless Cheryl in this habitat, one would think that she is a natural for the job, yet she didn't always want to be a news anchor. "I actually wanted to be a model," she admits, then adding, "But I was too short."
Then, while watching television, she saw two women reporting the news and thought that would be a really interesting job. In the credits of the show, she saw that two more women were producers. Soon after, she called up the four women and asked to interview them for a school project.