Page 1 of 5
The New Exploratorium - A place for the curious mind
By Parker Bizjack, Natalia Castillo, James Chase, Matt Copeland, Samantha Friedman, Gillia Friend, Charlotte Hee, Sara Kashani, Alexander Le, Jessica Le, Dexter Llama, Maia Manzagol, Matgo Marsh, Tessa Pares, Ethan Singleton, Emily Spears, Cole Summers, Ellie Wynne and Alia Rainsford from Bacich, Branson, Brandeis Hillel Day, Katherine Delmar Burke, Kent Mille, Mill Valley Middle, Miller Creek Middle, Marin County Day, Saint Mark's, San Domenico, Tam High and White Hill Middle Schools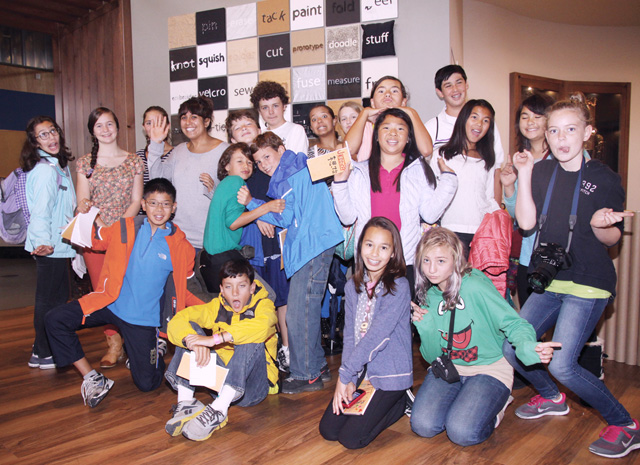 Science was everywhere. The air was thick with it. Click. Clack. Tink. Tink. Plink. These sounds, resembling classic cartoons, filled the endless hallway of the new San Francisco Exploratorium museum located at Pier 15.
Through the giant glass doors, the tall grey walls surround the many fascinating exhibits. Children run gleefully from station to station, winding a wheel to see a wooden bird fly, or exploring the world of 3D objects through different colored glasses. Waves crash against the rocks in the Bay Observatory, while inside the tinkering studio people of all ages explore new worlds never imagined before. At the Exploratorium, all minds become thrust deep into curiosity, as they examine each exhibit and wonder how it works.
The Exploratorium recently moved locations from the Palace of Fine Arts to a different part of the city on the water. The new space is not only easier for people to get to, but the museum is also packed with a variety of even more exhibits than ever before—all to get the gears in your brain turning. According to Lianna Kali, who runs the Tinkering studio in the museum, the relocation has been completely worth the effort.
"We'd outgrown our old building. And none of us liked to see exhibits go into storage for new ones," she said. "With this location, we are bigger, so we can continue to try new things. And the bigger, the better, right?"