Page 1 of 5
Audrey Cooper
An Interview with Audrey Cooper, Editor in Chief at the San Francisco Chronicle
By Aiden Ament, Lulu Barron, Michele Bear, Maddie Bruce, Jade Cooper, Jacie Datnow, Ariel Dunbar, Hayley Grimshaw, Caroline Hanson, Katrina Horsey, Robert Lammers, Maia Manzagol, Maddy O'hara, and Wheeler Young; from Davidson Middle School, Drew, Gate Academy, Marin Academy, Marin School of the Arts, Novato High School, Redwood High School, San Domenico and St. Ignatius Preparatory High Schools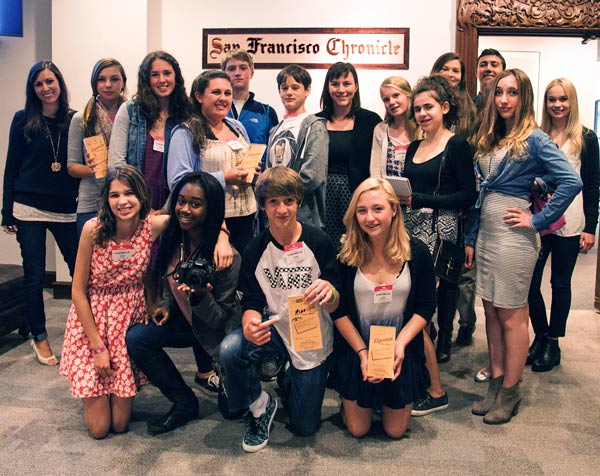 Rising up from the ocean and barricaded by the tall buildings and headlands, the misty fog covered the city like a blanket. On the corner of the street, a clock tower rose up from the cement, the shorter part of the building jutting out on either side. Hovering above the entrance were the words: San Francisco Chronicle.
As reporters, writers and photographers, we had the incredible opportunity to visit the San Francisco Chronicle, the largest newspaper in northern California, and one of the world's most influential publications.
An elevator led us to a very old-timey looking foyer with brown leather chairs and a stained glass art piece on a wall above what used to be the office of the Chronicle's publisher. The artwork, preserved throughout the years, features the two founding de Young brothers, dressed as knights kneeling in front of Lady Justice, who is holding a pen and paper instead of the typical scales.