ON LOCATION - December, 2017
FastForward Visits Airbnb
Interview with Airbnb's Jonathan Mildenhall
WRITERS: Jessi Sohn, Lilian Richards, Sophia Zoog, Wesley Slavin, Lyla Tipton, Abby Smith, Simone Harper and Becky Booth ~ From: Marin Academy, Brandeis Marin, Miller Creek Middle, Mill Valley Middle, Redwood High Schools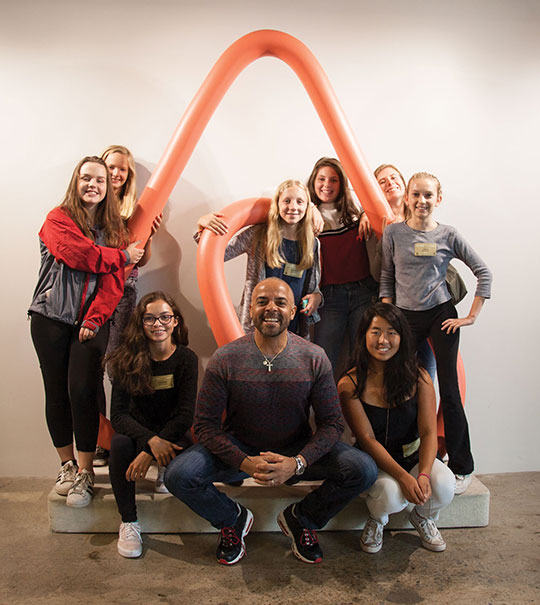 Airbnb began in 2008 when struggling college grads Brian Chesky and Joe Gebbia turned their San Francisco loft into a bed and breakfast by buying a few air mattresses and advertising the place online. They called their mini-hotel AirBed and Breakfast. Although the idea at first was just to "make a few bucks," they snagged three international customers right away as the Industrial Design Conference came to town and hotel rooms were at a premium. With another partner, Nathan Blecharczyk, the team created a website offering short-term rentals, and with that the Airbnb concept was born. Next, they raised money for their new venture by developing two special-edition breakfast cereals, Obama O's and Cap'n McCains, to cash in on the presidential race between Barack Obama and John McCain. This brainstorm alone netted the company over $30,000, and before long the Y Combinator startup-support firm was offering the fledgling company training and funding ideas. By 2009 Airbnb was listing homes, boats, tipis, private islands, and more for short-term rental, and today Airbnb is a $25 billion company with properties in 65,000 cities and 191 countries.
Airbnb Chief Marketing Officer Jonathan Mildenhall rocked our preconceived notions of what a giant corporation is all about. He showed up for our interview at the company's San Francisco headquarters in crisp jeans, black leather jacket, and tennis shoes, a very exotic silver pendant around his neck. Extending his hand to each of us with a broad smile, making eye contact and repeating our names with enthusiasm, he was the personification of high spirits. All of Airbnb's meeting rooms are modeled after actual Airbnbs, and we sat down with Mildenhall in an imaginatively rendered room inspired by a rental in Shanghai. He is one of five boys from a mixed-race English family. Since his chosen career, advertising, was and is predominately white and middle-class, Jonathan had obstacles to overcome as he pursued an education and attained his current impressive position.
Asked what sort of workplace culture he was trying to create when he joined Airbnb as its CMO, Mildenhall said "Everywhere you look, you see creativity"—a departure from most Silicon Valley firms, where the emphasis is on technology. The company also "puts a premium on humanity, because we're a tech platform that connects people in the real world, [which] allows them to have experiences or share homes." Humanistic images and symbols are prominently displayed around the building, defining a culture that puts a premium on creativity and celebrates the human equation. "Whenever we get confused or kind of lost, as organizations do, we ask, 'Is this right for humanity and are we being as creative as we can possibly be?'" This worldview was made real by Airbnb's quick response to the fires that devastated Northern California in mid-October: Hosts near the affected areas could list their homes at no cost, and evacuees and rescue workers could reserve them free of charge.
Mildenhall first used Airbnb in 2012. He was about to leave England to move to the U.S., and at the same time two old friends were preparing to celebrate their 40th birthdays. He said, "Look, I can either give you another trinket that you will wear once when I am around and then put in a drawer and never wear again, or I can rent a big farmhouse out in Oxfordshire and you can invite whoever you want to stay with us for a week and it will be a beautiful week of memories." The farmhouse was discovered on—you guessed it—Airbnb. Mildenhall and his friends had a memorable week of cooking, strolling and enjoying the local pub, knowing that this wasn't the sort of experience you could have in a run-of-the-mill hotel. A few months later, when Airbnb offered him the CFO role, he was ready.
Mildenhall had been a senior vice president at Coca-Cola, and he thinks the lessons he learned there have helped Airbnb evolve. "I came from Coca-Cola, and being a black guy, when I was at Coke, there were always other black, brown, Indian people, because Coke is such a global company. Every meeting was a rainbow of humanity, it was beautiful. But when I got to Airbnb and even San Francisco as a city, I was really surprised that there was a lack of diversity both in the city and in the company. I feel that the marketing community and the advertising industry have been very slow to demonstrate what I call a sustainable commitment to female leaders and ethnic minorities. I feel very privileged as the CMO in this high-profile company to make more programs for promoting women to senior positions and more onboarding programs for ethnic minorities to join the advertising community and the marketing industry." In addition, Airbnb works with colleges that focus on African American students and women's organizations that help girls get jobs in science and technology, and supports community events that promote women and underrepresented minorities. These programs underline Mildenhall's belief that we will have more gender and ethnic equality in the near future than all the generations that have come before us. (The company is also striving to eliminate racial discrimination on its own platform.)
Along those same lines is Airbnb's inspirational, inclusive 2017 Super Bowl ad, a labor of love Mildenhall is especially proud of. "Our ad was made in six days, which is really insane. I'll give you a few milestones. I get an email from a creative team saying, 'Jonathan, you want creative ideas. We want to run this 60-second Super Bowl ad. We made it in-house. Can you figure it out?'" The ad featured photographs of Airbnb staff members of different races and ethnicities and a message of tolerance and acceptance: "We believe no matter who you are, where you're from, who you love, or who you worship, we all belong. The world is more beautiful the more you accept." The ad ended with a simple hashtag: #WeAccept.
Mildenhall's first reaction was that there was no way Airbnb was doing a Super Bowl ad for 60 seconds because a 60-second ad costs close to $9 million, so he told them to "make it work as a 30-second ad and I want to see it by five this afternoon because I have a meeting with the top people from Fox [tomorrow] morning." In 45 minutes, the creative team had it. "It usually takes them two weeks to do anything that I ask. They called my bluff." The next morning he asked a senior VP at Fox if there was any ad space available towards the front of the Super Bowl, and when she said it was all sold he said "That's a shame because we have this 30-second spot that we would like to show." She watched the ad, impressed by its powerful message of healing in the wake of a contentious presidential election that ripped the country apart, and sent it to the NFL to see what they could do. Their response: "This is exactly what America needs right now." Although it was submitted only four and a half days earlier, the ad ran during the first half of the Super Bowl. It cost Airbnb very little to produce, so it was probably one of the cheapest Super Bowl ads ever made, but its impact was tremendous.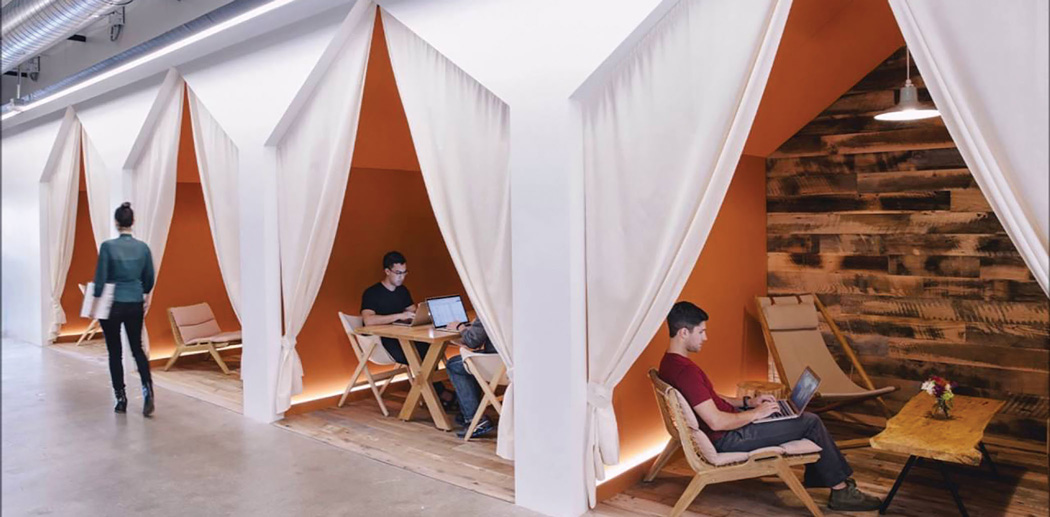 Airbnb continues to evolve in all directions, well beyond the walls of the places where their guests stay. "When people travel around the world, yes, they like staying in homes, but the things that they really care about, the memories that are made, the pictures that they post on Instagram, are all when they're outside of the homes," said Mildenhall. "And so it became an 'ah-ha' moment for us because if we're truly going to be the world's greatest travel company, we have to have a business that sits outside of the homes. When people travel overseas or for business, what they really like to be doing is meeting locals and having local experiences. So the business expansion came from that insight—that the best part of traveling is when you're out and about and not sitting at home in their bedroom. We're very passionate that our experiences will always have a local host and will always connect travelers with locals."
For tourists who prefer a more upscale experience, Airbnb is launching a luxury-travel subsidiary in February 2018. Among the sumptuous experiences to be offered: learning to cook from a renowned chef in an opulent home or a world-class restaurant; scuba diving with a champion diver and exploring subaquatic places few people get to see; helping craft a hot air balloon and going on a ballooning safari over Africa. Another outstanding experience we didn't even have to leave home for: beholding the creativity at Airbnb with Jonathan Mildenhall as our guide.
"The world needs great, strong, independent-minded journalism today more so than ever. I am so heartened that people as young as you might be exploring opportunities in terms of the truth that can come out of your pen. Inevitably in anyone's education, life and career path, there are dynamic forces that might sway you off your instinct. It is so inspiring to be in the presence of a future generation of journalists. It is important, satisfying, creative work and I feel that the world will open up for journalists like yourself who understand how to seek the truth through compelling questioning and can write about it and educate others. It's amazing what you guys are doing and I hope you continue to pursue it throughout the course of your education.
— Jonathan Mildenhall