Page 2 of 3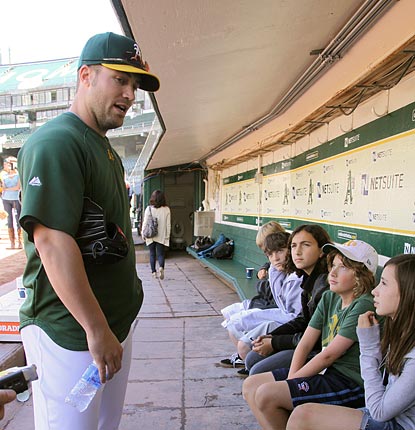 To those of you that want to be reporters here are some tips: Organize your thoughts so that you can remember the important details, so you can keep asking questions without an awkward silence. Another hint is to be able to quickly find information about the person you're going to interview. Joe's tips helped us before we interviewed Oakland A's pitcher Joey Devine.
Soon into the dugout came Oakland A's relief pitcher Joey Devine! Joey started dreaming about being a pro ball player at around age 7. His dad told him that "somebody has to become a pro so why not you?" Joey wasn't always a pitcher; in college he played a lot of different positions including pitching sometimes. When the starting pitcher for his college team was unable to play he found that he had a niche for the position and took it from there. Joey says that the difference between the minor and major leagues is huge! One reason is that the game speed in the majors is a lot faster than in the minors. He said that he was nervous facing the big names like Alex Rodriguez but that after awhile you get used to the speed and skill of the player and "you find the comfort zone, then your game can take over and the numbers that you had at the lower levels will start to come out."
Joey told us his favorite moment in his career was getting to pitch in the playoffs against the Houston Astros, because the playoffs give you a new perspective of the game. We asked Joey about his new coach, bob Melvin. Joe replied, "He has a lot of energy, he is a competitor trying to get the best from all of his players. He definitely has a park that gets the best, even if we are down one or two points in the ninth, we still feel like we are going to win the ballgame and that's always a good feeling."