Page 3 of 5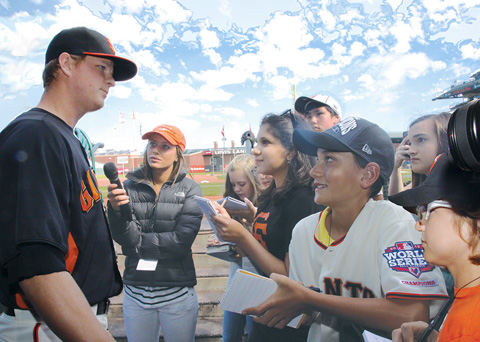 After some time, we walked onto the dirt part of the field where we saw the Giants' players fielding. We met shortstop Brandon Crawford, as he was walking back to the training room. Crawford, who is from the bay area, was a huge Giants fan growing up. He named Royce Clayton, a former San Francisco shortstop, as an idol of his. Crawford said he was always drawn to the shortstop position, which is considered by many baseball fans to be the most dynamic defensive position in the game.
Like Crawford, most professional ball players had heroes within the sport. We stopped Sergio Romo as he was walking onto the field. He told us about how his father got him into baseball, and he had a lot of advice to give young athletes. "Anything is possible," he said. "Shoot for the sky. Never give up."
For Brandon Belt, playing for the San Francisco Giants is also living a dream. As first baseman, he helped pitcher Matt Cain achieve his perfect game in June 2012, which was only the 22nd perfect game in baseball history, and the first of the Giant's franchise. Belt said, the Giants organization is first class and incredibly well run. He feels very lucky to be playing with the team.
As big league stars, many give back to the community. When asked how he gives back, Belt said that he and his teammates dedicate a lot of their time and money to fundraise for causes they care about.
Pablo Sandoval, also known as Kung Fu Panda, said he also enjoys fundraising and community activism. He enjoys teaching foster children how to play baseball and donates money, bats, gloves, and baseballs to kids in need. His biggest challenge is being away from his family so often. "It's hard to motivate yourself when family and friends are far away," he said.