Page 1 of 4
Mickey Hart — The Beat Goes On
By Chiara Arrellano, KC Badala, Emily Castilla, Lizzie Chadbourne, Carolyn Frost, Carolyn Hansen, Taylor Galla, John Hassen, Sarah Moses, Danielle Slatkin, Maddy Suennen, Tyler Sylla, Bridget Went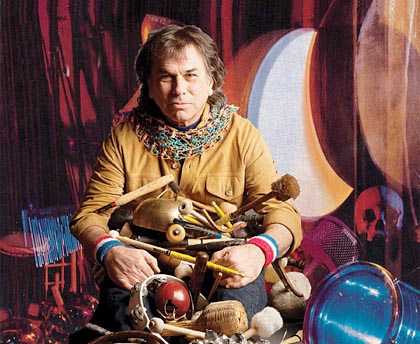 Some speak more with their body than their voice and the words they create. Some speak with that special glint or smile in their eyes, others with their eyebrows or their posture. Mickey Hart communicates with his hands. They were always moving. Whether they were putting emphasis on a subject or definition to a word, they were always pulling us deeper into his story, into his trance. We were mesmerized taking it all in, as these hands were the ones that kept the beat for one of the most famous bands of the 20th century.
"It was just magic," said renowned drummer of the Grateful Dead, Grammy winner and member of the world-renowned duo, the Rhythm Devils, Mickey Hart. Inspired by his drumming parents, Mickey described his experience playing the drums as something out of this world. "In a way, I was coded for this, it's part of my DNA."
Humble Beginnings
Mickey began drumming very early. Mickey's father left him a drum pad and drumsticks which began his love for the instrument. Mickey just started banging away one day. "My whole world would come alive, something magical would happen." After several years of smashing away on the pad, he asked his mom to teach him how to play.