Page 2 of 4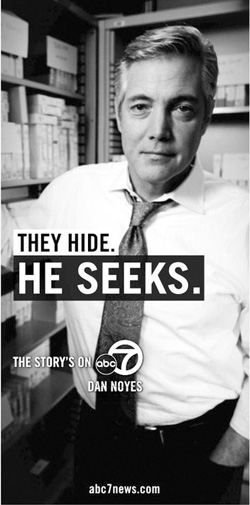 Noyes has been in the news business for 30-years, but like many people, Noyes started out as an intern at CNN. He stayed after hours, asked lots of questions and worked very hard to get to where he is today. Eventually he made his way up to the top, and in 1994, joined ABC 7 News, where he has been ever since.
According to Noyes, he loves going to work everyday. "I like doing stories that make a difference in people's lives," he said. "I keep digging into the story until everything is told."
Sometimes he spends days, months, or even years on his stories. "I like doing stories that no one else has done. I don't write stories that have already been written in newspapers. It's all about making change," he said.'
But according to Noyes, his job isn't easy—especially since most of the people he reports on have a dark secret that he trying to uncover.
Throughout his career, he's been shot at twice, punched, shoved, and had the door slammed in his face many times, all by people whom don't want the truth to be revealed. "The subjects of my stories are people who don't want their stories to be told," he said.
"I always try to stay very calm."
Even though sometimes when he digs deeper into a story he is putting his life at stake, he still is on a mission to make a difference with monumental stories. "There are many dangers in this field of work," he said. "But the more people resist me, the more determined I am to get the information."
And it isn't always easy harvesting the information, he added. But, despite the danger and fear that comes with his job, he loves it. "I am an investigative reporter. I have a natural curiosity for these things," Noyes said.