Page 1 of 4
FastForward Interviews Award winning pizza maker Tony Gemignani
SPOTLIGHT - January 2014
By Aiden Ament, Olivia Arthur, Lindsay Bell, Cyrus Bernier, Madeline Bruce, Zach Bjursten, Andi Cooper, Jade Cooper, Simone Harper, Sara Kashani, Charlotte Lee, Tatum Shaver, Zoe Shulman, Abby Smith, Gabby Ural and Ellie Wynne, from Del Mar Middle, Gate Academy, Hall Middle, Katherine Delmar Burke, Marin Horizon, Marin Primary & Middle, Saint Isabella, and Saint Rita's Schools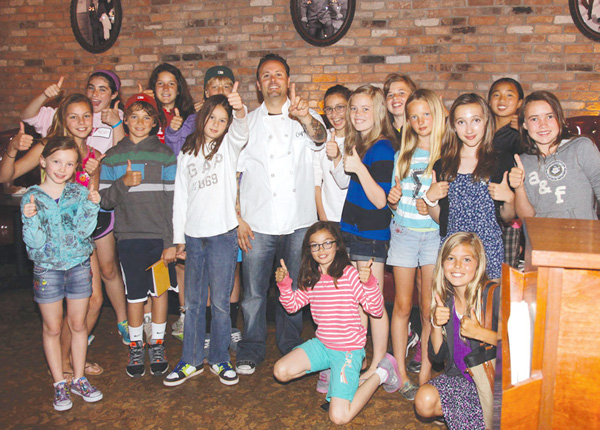 Standing outside of the Italian restaurant Capo's on Vallejo St. in San Francisco, it seemed impossible that we would be meeting the world pizza champion, Tony Gemignani. It was pretty exciting, but surreal at the same time. Were we really going to be interviewing someone that famous?
Entering the restaurant, we take it all in. There is a nice and homey feeling to it all. Brick walls, a tin ceiling, oval classic black and white pictures from the 1950's, and a phone booth - all stood out as we looked out over this classic Italian restaurant.
Tony Gemignani burst through the door with the energy of a high school jock, greeting us right before we sit down on the amazing (and comfortable) red leather couches. He served us pizza sticks with a side of tomato sauce and sat down, ready to answer all of our questions. It was cool but not surprising to start the interview with some great pizza.