Page 2 of 4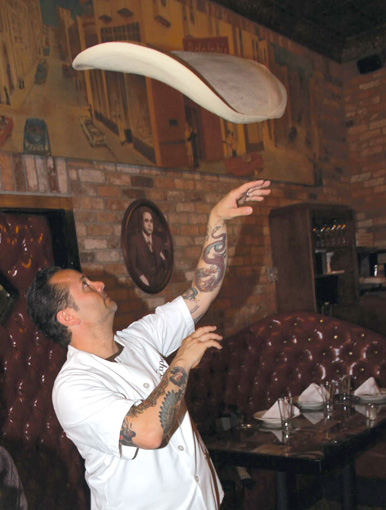 Tony told us he fell in love with food because of his mother and grandfather. He lived on a farm and loved when his mother cooked, and he remembers having pizza once a week in his house. "Food was a big part of my life and family," he said.
Tony attended Washington High School, where he also learned home economics. But he didn't take the class because he wanted to know how to cook, he says. "I took the cooking course because I thought it was going to be easy." Soon it was evident he had a natural gift for making food. His teacher Mrs. Chu saw something special in him, because she awarded him the Bank of America award for home economics that year.
After he graduated high school in 1991, his brother taught him the basics of making pizzas. Needless to say, he loved it. Today, Tony has been in the Guinness Book of World Records twice, once for making the Biggest Pizza in 2 minutes continuously spinning (26.5 inches wide) and again for the most consecutive rolls of pizza across the shoulders in 30 seconds.
He has also won the award for Best Pizza in the World in Naples. Winning the best pizza award was an incredible experience, he says. "No one born outside of Naples has ever won this award."
He also has two gold medals on the food network, Even with all of his accomplishments, Tony said he's always looking for ways to make his pizza better. When he won the 2007 world cup in Naples, he said he celebrated for 10 minutes, and then 15 minutes later, he was already thinking, "How can I make it better next time?"