Page 1 of 3
From Martha Stewart to MacGyver
SPOTLIGHT - November 2013
By Lauren Anderson, Sophie Barron, Erin Fernwood, Alexandra Kitze, Julia Kudler and Maddie O'Hara; from The Bay School, Branson, Marin Academy, Sir Francis Drake High and University High Schools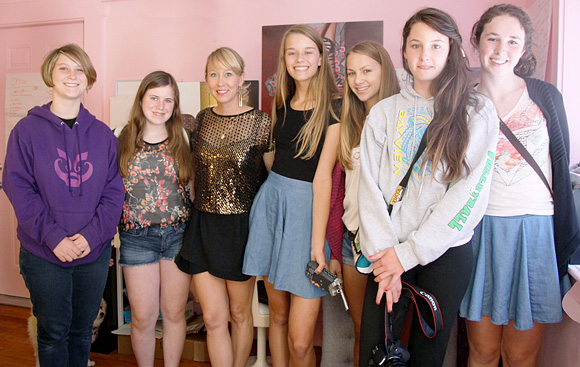 Do you believe in fate? Do you believe that every person has one central calling? Alison Lewis, inventive fashion designer, does. "This is what I was supposed to do," she said, in an interview with FastForward at her studio in San Francisco.
Nestled in a bright, bubblegum pink room, wearing a sparkling gold shirt like the true fashionista she is, Lewis is renowned for her ability to bridge the gap between art and science through her innovative and cutting-edge fashion designs made especially unique through the technology she incorporates within the clothing.
From writing about her craft to creating accessible products, there doesn't seem to be much Lewis can't do. In 2010, she was voted one of Fast Company's most influential women in technology for her unique fashion creations that inspire encourage people to explore technology in a new way.