Page 2 of 3
THE INTERVIEW:
During our visit to Pixar, we met David Tanaka, a Staff Post-Production Editor, who talked to us about the creation of Pixar in Concert. Pixar in Concert is a compilation of three to five minute vignettes for each of the 14 full-length movies set to music by an orchestra. Pixar in Concert originally premiered in 2012 at the San Francisco Symphony, and has been touring globally for the past two years. Tanaka is in charge of editing and piecing together each clip. Even though it is difficult work, Tanaka explained how much he enjoys it.0
"I suddenly found myself in a position where I could take my love of Pixar movies, and love of music and couple it into one project," Tanaka said.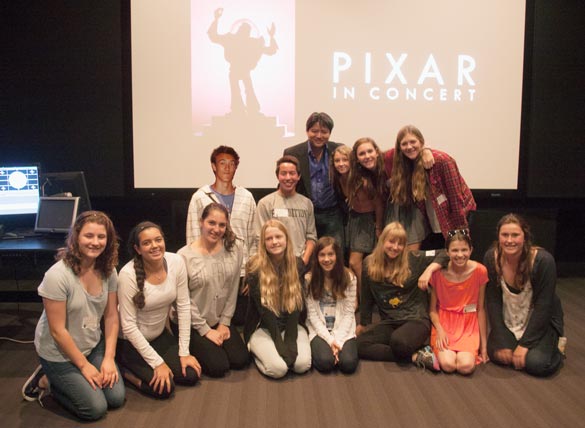 The snippets of film don't share the entire plot of the story but instead portray major themes. Tanaka addressed the challenges of seamlessly synching edited clips to music.
Tanaka laughed as he remembered when he first presented Pixar in Concert to Disney. He had showed them the "Finding Nemo" clip, and when it was over he was greeted with silence. When he turned to the group of businessmen he said he found them in tears.
"If you do the job right, no one realizes how much hard work goes into it," Tanaka said
Tanaka went on to explain the underrated importance of music in films. Creators use music to invoke emotions in the audience, minors for sadness, major for happiness, he said.