ON LOCATION - February, 2017
FastForward Visits Whiskytree
IMAGINARY WORLDS ~ The Ingenuity of Whiskytree Creators
WRITERS/REPORTERS: Ben Auerbach, Rachel Butts, Charlie Brooks, Lauren Cheung, Kai Creedman-Ho, Christian Hee, Ethan Herron, Oscar Labovich, Jane Merkle, Lux Sparks-Pescovitz, Edna Maguire, Rachel Richman, Zoe Shulman, Kylie Sebastian, Jack Nieker, Maybell Murphy-Sylla, Jacob Taichman-Bernstein, Jack Watson, Regan Widergren, and Alaina Wehrly;
SCHOOLS: Kent Middle, Dixie School, SF Friends School, Mill Valley Middle, Mark Day, Kent Middle, San Rafael High, Marin Waldorf, Marin Academy, Urban, Mark Day, Tam High, Tam Valley, Hall Middle, and Saint Isabella
In a non-descript building in downtown San Rafael, just two blocks from Fourth Street, a small company uses close collaboration and ingenuity to create vivid, imaginary worlds on a daily basis. Equipped with an arsenal of high-powered computers and cutting edge software, this company's hardworking staff has built structures, cities, landscapes, and majestic skylines for some of Hollywood's biggest motion pictures. Formed by a team of seasoned visual effects veterans in 2007, the whimsically named "Whiskytree" has carved a place for itself in the constantly evolving realm of digital animation and production. In a behind the scenes look at one of Marin's best kept secrets, learning a thing or two about how much time and hard work go into the movie magic that millions around the world enjoy each day.
With just a staff of three people at its creation, Whiskytree has grown its employee count to 25, still a small number by industry standards. According to Technical Director Tuan Ho, however, this is an integral part of the company's charm: "I like working with a smaller team," he said.
"I'm friends with everybody here and it makes work a lot more fun." Smaller groups are much more conducive to close collaboration as well. VP and Creative Director Joe Ceballos explained, "It's a constant flow of sitting, working at a desk, and communicating. We review goals of the week, and often have lunch together." Animation Supervisor Scott Wirtz added that the Fourth Street coffee run/lunch break is one of his favorite parts of working at Whiskytree; whereas the Presidio campus of Industrial Light & Magic (the largest visual effects company in the world, started by George Lucas during production of the original "Star Wars") is so self-contained that employess can never really wander off and change their scenery, Whisky- tree's San Rafael location allows its workforce to clear their heads and revitalize the creativity that hours of laboring at a desk can dull over time. From what we observed, the friendly atmosphere of Whiskytree was just another reflection of how its location sets it apart.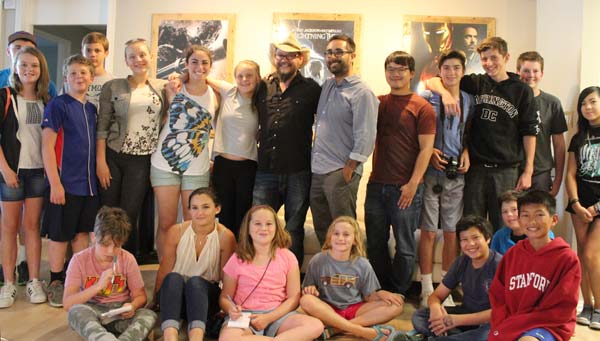 The office itself is dark and quiet; there is an air of hyper-concentration, something absolutely necessary for the complexity and time-consuming nature of Whiskytree's work. We watched intricate software interfaces dance across every employee's screen, each one helping sculpt the bones of what would eventually become a highly-detailed visual effects shot. This has led Whiskytree to many different projects in the realm of film, video games, and commercials. With digital technology now the norm of visual effects production, movie studios and corporate America alike are lining up for the latest in cutting edge effects work to keep their films and products relevant to the general public.
So what projects has Whiskytree lent its resources to? For being a relatively young company, their line of projects is quite extensive; from big studio films like Captain America: The Winter Soldier, The Big Short, The Revenant, Tomorrowland and Rogue One: A Star Wars Story to advertising campaigns for Geico Insurance and toy company Mattel, to even a self-commissioned 3D recreation of Ancient Athens, Whiskytree's repertoire continues to expand. The decoration on the walls reflected this, as over a dozen movie posters signed by the filmmakers themselves adorn their workspace. For most of these films, Whiskytree has been hired for their renowned ability to create digital environments—meaning that everything from the architecture, to the foliage, to even the grooves and shapes of the landscape are rendered within Whiskytree's complex software. These renderings are comprised of layer upon layer of many different small shapes. Simply put, these geometric shapes are not at all complicated or detailed; however, each successive layer contains (literally) trillions of them. The combined patterns that these trillions of small shapes create is the highly detailed, photo-realistic imagery that makes it to the final cut of Whiskytree's completed effects shot. With added layers of texture and lighting on top of the carefully built CG landscape, it is virtually impossible to see just how much digital construction goes into the finished product. And with each new project the company tackles, their method is forced to adapt and sophisticate to keep up with the progression of visual effects technology. For the company's team, this only inspires them to push their craft even farther forward. One instance of this development was their work on the Matt Damon sci-fi action film Elysium, for which they rendered high-tech, futuristic scenery. The film, which portrays a future where the wealthiest, most powerful people live on a utopian space station removed from the strife of the poor people trapped on Earth's surface, called for wide tracking shots that approached the Elysium space station from afar, pulling up so close that our point of view then enters its barrier and unveils the inner structure and landscape. As stated, this highly complicated shot was unlike other projects the team had worked on before: to complete it, the team was actually flown up to the set to collaborate with over a dozen other visual effects companies that had also been commissioned by the studio. In this day and age, the use of many different effects companies on a single film has become commonplace—making the fact that Whiskytree has carved a unique market for itself all the more impressive.

So what advice does Whiskytree's team have for people aspiring to work in the world of visual effects and computer animation? For each person at the company, it's more important to understand why you're entering the field, instead of simply just learning the software. The passion, more than the technical prowess, is what defines a visual effects team's ability to grow and adapt in one of the most constantly evolving branches of the entertainment industry. For them, visual effects is a medium that allows people to escape the everyday—a gift that storytelling has long represented for us all. The difference with the advent of digital effects, however, is that storytelling's power to immerse the audience in a totally different universe has never been stronger. And if Whiskytree's foresight is correct, the medium is only going to continue to become more immersive. People will be "their own hero" in the entertainment of the future, as the pure escapism and spectacle of modern film will move even further into the wild blue yonder of VR technology. Who knows? Maybe with the passion and ingenuity of Whiskytree's team, you could be the person who spearheads the next great visual effects revolution.