ON LOCATION - February, 2017
High-Octane Fun at Simraceway
By Ben Auerbach, Ethan Herron, Kent Middle; Christian Hee, Mark Day School; Oscar Labovich, San Rafael High; Jane Merkle, Marin Waldorf; Rachel Richman, Marin Academy; Zoe Shulman, Alaina Wehrly, Urban; Kylie Sebastian, Mark Day School; Jack Nieker, Tam High; Jack Watson, Hall Middle; and Regan Widergren, Saint Isabella
A loud cacophony of popping, whirling engines greeted us as we approached the famous Simraceway Performance Karting Center, nestled in the beautiful rolling hills of Sonoma County, California. A part of the larger Sonoma Raceway, which hosts a variety of heart-pounding races each year, the Performance Center is focused around the sport of Go-Karting, a in which racers driving small karts accelerate and drift around the various curves of the track in a form of racing that's exhilarating to watch, but even more so to do for a living. On a scorching summer day, we were given a chance not only to learn about the joys of this sport, but to also take the karts for a spin ourselves. Eager to get in the driver's seat, we arrived in the parking lot and made our way to the visitor's center, where our interview soon began.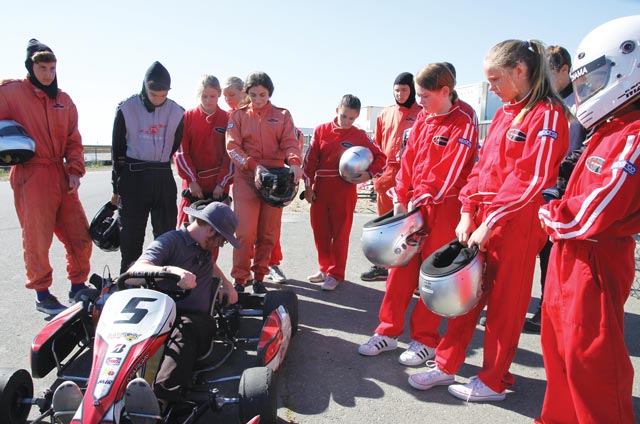 Sitting down with an 18-year-old professional go-karter and Simraceway instructor named Enzo Prevost, we learned a little more about what it takes to become a part of the competitive karting world. For Enzo, who began his racing career at age 14, the combination of thrills and the allure of success in the world of racing was what first attracted him to the sport. As he half joked to us, "I see racers all over the world in private planes… Like, who wouldn't want?" The rush of being on the track is, of course, what primarily drives Enzo's passion; as he said, "It feels fun, crazy, and amazing." Much like any other favorite sport, art, or activity, racing is simply the way by which Enzo channels energy into something that makes him feel most alive. The degree of his passion was immediately obvious, as he explained that it took him two years of training to compete at the level he does now. "When I was your age," he told us, "I was driving three times a week."
Clearly, go-karting is much more than a plain amusement or hobby. It demands just as much practice, thought, and endurance as any other type of racing, and poses just as many dangers too. Go-Karting requires drivers to balance the pure adrenaline of conquering the track with rigorous self-discipline, in order to avoid crashing or hurting others; in other words, getting cocky is pro-racing's ultimate sin. While the dangers of beginner racing involve hurting one's self or others out of incompetence, the risk of cockiness comes from veteran drivers having refined their skill so much that overconfidence clouds their sense of basic safety. One example Enzo shared was a story from a couple years back, when an older, experienced karter tried to pass someone mid turn, but wound up flipping over and destroying his kart. Moving on to the Go-Kart track itself, these dangers were on our minds as we prepared for our test drive. Rather than let ourselves get over-anxious, however, we kept our cool: confidence was still important to the sport (as Enzo told us), so we knew to just keep on guard and not drive recklessly.
What followed our safety presentation was a high-octane experience we won't forget anytime soon. From Simraceway, situated on a scenic vista overlooking Sonoma's main track, one could behold the majestic landscape and San Francisco Bay off in the distance. The air was sweet with the smells of tire rubber and burning fuel, and the mix of natural scenery and motorsport overwhelmed our senses, and created a distinctly Californian atmosphere of adrenaline, danger, beauty, and fun. It felt as if we had been transported back to the golden age of old-school racing, when Gran-Prix first swept over Europe and Steve McQueen roared across the silver screen using whatever random vehicle he could find. To prep for our own high-speed action, we began by donning a thickly padded racing suit, in order to protect ourselves from the wind and potential crashes. Next came a head sock, a piece of fabric that wraps around (you guessed it) the top of your head to protect it from sweat and chafing in the helmet. Finally, we donned the helmet and gloves, the most immediately recognizable parts of any pro-racer's outfit, and stepped into our karts. Officially called "Grand Prix Karts," we quickly learned how much of a punch these small cars pack when they accelerate to 60 mph.
The first hit of the accelerator made the engine shake the entire kart like an earthquake. The screaming engine reached full volume, and the kart rocketed forward toward the first turn. The adrenaline was almost overpowering, but we remembered the important racing safety we were taught prior. Approaching the first turn at incredibly high speeds, we let off our throttles and coasted, letting the karts' momentum and steering do the work. Once we coasted to the apex (the innermost point of the corner, or the center of the turn), we slammed our gas pedals back down and accelerated out of the corner. When each of us dove into the next straightaway, the acceleration created an intense tunnel-vision effect. As the wind rushed around our bodies, the engine reached it highest rpm level (or revolutions per minute). The process repeated, and the adrenaline never stopped pumping.

As Enzo said to us, "You know you're good (at racing) when you can feel how the kart moves, and then react to that movement." While our turn on the track was so exhilarating that there was barely any time to really contemplate the form of racing, let alone the basic safety Enzo taught us, we had seen firsthand how much passion it takes to become a refined Karter like him. As we left Simraceway behind, after an equally thrilling and informative day, we strived to carry that same level of commitment to whatever passion we chose - and were all excited for the next time we could get behind the wheel of a roaring Grand Prix Kart once again.
For info on Simraceway karting classes, visit: www.simracewaydrivingschool.com
Simraceway Performance Karting Center
Turn 1, Sonoma Raceway
29359 Arnold Drive
Sonoma, CA 95476
1.800.733.0345 ~ 1.707.938.9889