ARTS & ENTERTAINMENT - July 2016
Moonalice
FastForward Interviews MOONALICE at the 2016 BottleRock Festival
By Matt Geffen, Student Editor
Back for their fourth year at BottleRock Napa Valley Music Festival, Moonalice appear quite comfortable as they walk into the Media Lounge. Taking seats in front of an eager crowd of reporters and photographers, band members Roger McNamee, Pete Sears, Barry Sless and John Molo joke about whether or not they'll be invited back next year, though they have remained one of the few constants of a festival that has changed significantly from year to year. The psychedelic, roots-rock band Moonalice was birthed in the Bay Area in 2007, the brainchild of producer T Bone Burnett, and has been a welcome presence in the Bay Area in its 9 years of improvisation at venues such as Sweetwater Music Hall and festivals such as Hardly Strictly.
"Music should be fun, right?" asks Roger McNamee. A founding member of Moonalice, he says the band's vision was driven by his own experiences with music growing up. "When we were growing up, music was not a business. So shows were really informal. I saw Pink Floyd do the first Dark Side of the Moon tour for a buck. That's a little different from now, right? Our theory was, well, 'Look, we're never going to make it to stadiums, so let's try doing that.'"
Moonalice has garnered a committed and loyal fan base, gaining the attention of some of music's biggest names. When asked about the band's opening performance for U2, McNamee suggests they have also influenced the supergroup's approach to live performances as a whole. "We helped [U2] move to a model where the setlist changes every night," McNamee remarks. "It's like, you got to play different stuff or people are going to catch on." McNamee says of U2's lead singer, "The great thing about Bono, is that music is only part of what he does." McNamee's influence is not limited to his own musical ventures either, as he has co-founded a private equity firm, Silver Lake Partners, and also worked to implement technology into the world of music. McNamee worked with The Grateful Dead to utilize technology to maintain jobs after Jerry Garcia's death and also helped to build an online streaming platform for Moonalice shows: currently, over 103 Moonalice shows having been broadcasted live online.
The typical Moonalice fan is social-media savvy and in McNamee's words, "open-minded." McNamee emphasizes the importance of interacting and exploring the band's fanbase through social media and he also feels the band's strength around social networking has been crucial to the group's success. Recalling T Bone Burnett's concurrent production on three different albums, one of which overshadowed the Moonalice project, McNamee says, "Racing Sand won every Grammy known to man, and people couldn't have cared less about Elvis [Costello's] album or our album— so we were forced onto social networks. So we wind up being on Facebook, right? We have 415,000 fans and we know who most of them are." In regard to the group's lack of one single demographic, he says, "If the little kids are coming and sitting on your monitors, you're doing something right." Many would agree Moonalice's approach of direct engagement with fans has been successful: the group has become the only band to have one million singles downloaded directly from their website. "We've tried to make it fun. People like art, right, we have posters every show. We give everything away."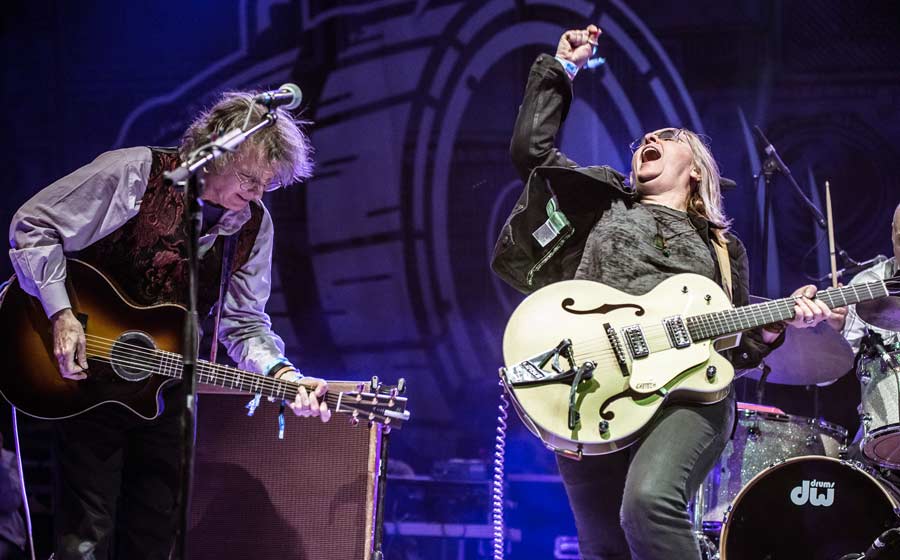 Every member of Moonalice boasts an extensive resumé, with past experience ranging from Rod Stewart to The Flying Other Brothers to Jimi Hendrix. The entire band excluding McNamee currently plays in the David Nelson Band, while two of the members play with Phil Lesh. McNamee is also at BottleRock in support of his side project, DDS (Doobie Decibel System), a duo that also includes Jason Crosby (There is also an electric DDS Band with members Jason Crosby, Roger McNamee, Pete Sears, Dan "Lebo" Lebowitz and Jay Lane.). Asked about his multiple projects, McNamee says, "The music business is such that we all have to play in multiple things. So if you think back, the time I was talking about, when it cost a dollar to get in, people were in one band. And it was full time, that was what they did. Now it's hard for a band to play more than 50-60 shows a year, so if you want to be a full time musician, you have to be in multiple bands." Speaking of how DDS originated, McNamee observes, "Music is inherently about people getting together informally. And then, if it really works, then you do it formally." He continues, "I mean, we went from nothing to getting sued by The Doobie Brothers in a few months. It was just unbelievable. So, chance plays a really big role in the whole thing."
"I've been really blessed. I think we've all been blessed. I mean we all got to live our dream." Wherever Moonalice goes from here, it is clear their message and vision will only continue to expand in its reach, their live performances captivating and exhilarating — but most importantly, different every night.
Find more information about Moonalice at www.moonalice.com and like them on Facebook at facebook.com/Moonalice. Find more information about Doobie Decibel System at DDSband.com and like them on Facebook at facebook.com/DoobieDecibelSystem.