Page 2 of 4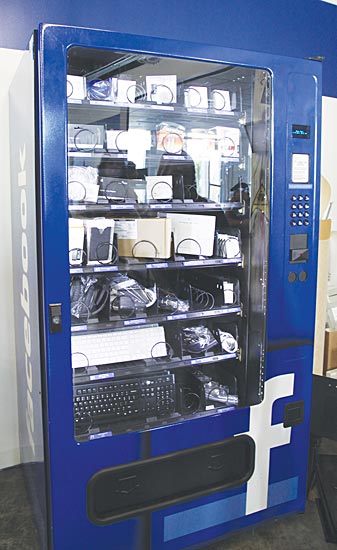 These consistent positive reminders helped highlight the bounty of creative minds behind the company. Facebook is an integral part of our society, connecting people around the globe and providing an outlet for sharing memories. The social networking site was created by then-college student Mark Zuckerberg in 2004, and has since grown to attract more than 1.32 billion active users as of June 2014. It only makes sense that the headquarters would be a feast for our eyes.
We visited a technology lab where employees could get free gear, such as keyboards or batteries, with a scan of their badge. There were also micro kitchens scattered throughout the offices, filled with snacks, coffee, and refrigerators full of drinks to quench the thirst of passing employees. There are also subsidized restaurants, coffee shops, a free ice cream and sweets café, and even an arcade.
But wait. There's much more happening here than this multitude of cool amenities. Outside in the courtyard, we congregated in a place called Hacker Square. A sign hung from one of the buildings that read "The Hacker Company." The "hack" was a place where employees meet to announce hack-a-thons and other forms of meetings. Hack-a-thons are used to come up with new ideas, work through problems and network with other employees. On campus, there's also a transit center where employees can check out bikes during business days and weekends, as well as get directions to locations inside and outside of the headquarters. Inside the buildings, the guides pointed out the unfinished ceilings, explaining that the construction acted as a constant reminder that Facebook is constantly improving, always changing.
Facebook managers and head executives encourage employees to use these resources, and even plan meetings and work outside to take advantage of the creative campus. The tour of the campus was enough just to make us more eager to enjoy the rest of Facebook and the secrets that had yet to be revealed to us.