ON LOCATION - September, 2016
One Innovation at a Time
REPORTERS/WRITERS: Aiden Ament, Sabrina Chafee, Kylar Flynn, Katrina Horsey, Ellie Jenkins, Parker Kulavic, Jessica Le, Carissa Lee, Charlotte Lee, Jane Merkle, Rachel Metzger, Will O'Hara, Elliott Soofer, Lyle Rumon, Christine Watridge, Sari Wisoff
Where is one place that you are dying to go, but have never been? Let's say you're imagining the rolling hills of Tuscany, surrounded by billowing vineyards and stunning vistas from quaint, hillside villages. Or maybe it's sitting courtside at a Warriors game, dripping with sweat and excitement as Steph Curry bounds down the court from a breakaway layup. What if you could see it all from the very room where you're sitting right now? What if the direct, intense experience of these worlds in all their vibrancy could be available to you this instant? It can be possible, thanks to the inspired technological masters at Facebook, who every day are working to "connect the world."
As FastForward reporters, we had the opportunity to visit Facebook headquarters and speak in person with some of their clever, daring and dedicated pioneers. From the very beginning, the experience transported us to another world: Facebook's modern office includes a nine-acre garden spotted with gravel paths, flourishing plants and funky sculpted seats for relaxing, meeting or having a coffee. Collaboration is an important part of Facebook culture, and the open building plan allows for greater teamwork and a sense of unity. In fact, the structure designed by architect Frank Gehry is the world's largest in the open plan style. Inside the building, a glance upwards reveals what looks like a floating plywood staircase, rainbow banners draped off the side and a splash of color on the wall high above. The hum of lighthearted music can be heard over the murmur of voices, and footsteps echo on the concrete floor. The Facebook office is a hub of activity, and it's clear that it's more than just a workplace: it's a site of invention.
Facebook is leading the technological revolution, connecting people across the globe with their ever-expanding offering of products. "As media gets richer," Director of Engineering Brian Cabral explains, "part of its richness is how much we can share together at one time." You may know that when Facebook launched more than a decade ago, it was all just text. Now, a consistent stream of photos is standard, and completely live video broadcasting is currently making a big splash.
Part of the digital transformation is related to Facebook Groups, of which there are now over a billion monthly active users. "It originally started off pretty different than what it is right now," remembers Devanshi Bhandari. "People would come together around something they felt was a quirky, funny part of their identity—sort of like putting a bumper sticker on your car. There were groups like 'I Stepped On a Crunchy Leaf on My Way to Work Today.'" Now Facebook hosts an all-encompassing variety of eclectic groups, from private family networks to large political organizations and beyond. They've even seen groups centered around prom, filled with photos that attendees upload to make sure they're not going to wear the same dress! Always growing and changing, Facebook recently launched Groups Discover to help users identify new communities of people with shared interests. "What we've seen is when people really connect—not necessarily with lots of groups, but connect with a few groups that mean a lot to them—that just creates such awesome value," explains Bhandari.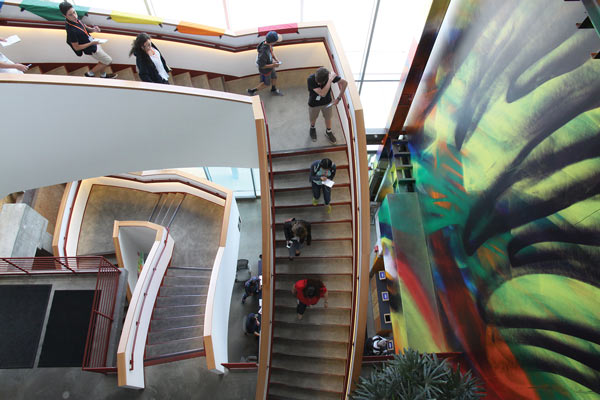 Bhandari and others here at Facebook take their jobs seriously. Designing products and continuously enhancing them is a challenging task. "There are so many people using Groups that any change you make, you have to be really, really careful that it's something everyone will appreciate and we're not detracting value from anybody," says Bhandari. Groups is one of the largest products that Facebook has, with more than a billion users, "so we have to be kind of deliberate and thoughtful with everything we do."
How does Facebook accomplish this? Constant conversation, innovation and collaboration. "You start off your day with an awesome breakfast because they have all this amazing stuff here," according to Bhandari "and then you basically are in meetings." And if meetings don't sound fun, remember the people involved at Facebook. Per Bhandari, "It's really awesome to work with people who are so aligned on the broader goal of trying to connect the world."
Behind the scenes, Facebook is also leading the way in a cutting-edge area called computational photography, with their 3D-360 Camera. The camera resembles a droid from the ice planet of Hoth, where Luke Skywalker and the rebel alliance were defeated by the vicious Empire. The minimalistic jet black casing conceals the complex internal technology, creating a facade of simplicity. Inside the camera 17 lenses line the perimeter of the device, their "eyes" penetrating into every inch of the room. But despite its frightening appearance, the camera has a positive mission in the world: to connect people in a way that has never been done before, through rich, meaningful experiences.
The camera, according to Brian Cabral, "allows you to be where you've never been before." It has entirely 360 degree views of the world via its many lenses. Before Facebook's camera, 3D-360 video was limited to lower quality, monoscopic footage that made it difficult for the viewer to fully immerse themselves in the virtual reality. According to Cabral, "Take all the rules that you've been taught, like the rules of thirds and other things in art and photography: throw that out the window. Why? Because this thing sees everything."
Cabral, who has worked extensively with cameras and imaging technology for over 35 years, started out as a photographer and journalist. "My very first job—my first paycheck—was sitting right where you are," he told us. "I was a freelance journalist and photographer for a local newspaper, running around taking pictures. My first five or ten dollar check, which was humongous back then, was taking pictures. I would do piecework." Cabral pauses. "I feel like my whole career has come full circle here," he muses. "Instead of running around taking pictures, I am running around taking pictures."
In test runs, Cabral has brought the complex 3D-360 Camera to Grand Central Station, suspended on a 30-foot boom, and courtside to an NBA game. In this way, Facebook's camera can truly take you to the middle of all the action. The possibilities are endless. According to Cabral, "It can allow you to share things with people far away in close settings, like at Thanksgiving dinner. It will allow you to share with your grandkids what your grandparents' home" looked like, even long after it physically exists. Moreover, the ability to capture the full visual environment seamlessly, explains Cabral, has social value: "It's why Facebook is building this camera: to connect people both generationally in time and across the world."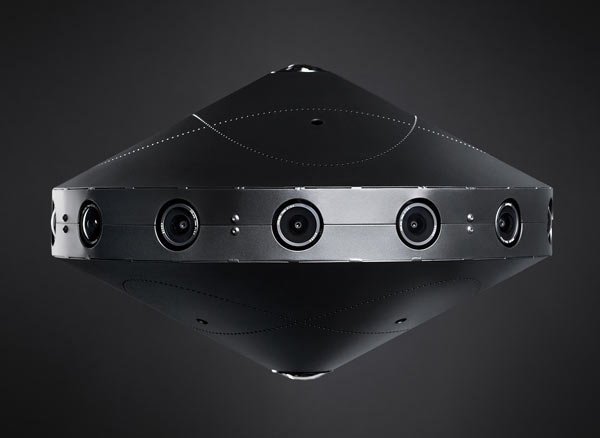 The 3D-360 Camera is pushing forward the technological game in more ways than one: beyond its mere creation, it is inviting increased innovation because Facebook is opening up the technology to the public to employ and perfect. "So we're inviting people to come join us and build this!" exclaims Cabral. "You'll be able to go on the web and download all the design specs and all this software. You can download it, you can read it, hack on it, make it better—because we don't have all the answers." And while the camera at this point costs $30,000, as the result of four prototypes and some hit-and-miss experiments with 3D printing, Cabral maintains, "I don't lose any sleep that I can't make it smaller, cheaper, and faster. That will happen." But as a first step, he says, "Making it of high-enough quality so it's compelling, so you can tell compelling stories, was our primary motivation."
"This is not just a new camera," according to Cabral. "It's a new medium. It's like being Gutenberg and making those first presses and knowing that it's going to change the world, and it's going to change the world after you've moved on in this life. That's pretty powerful, and you don't get to do that very often even on this earth."
At Facebook, the power is in the people. And the people are pushing innovation to the next level for all of us.