Page 4 of 4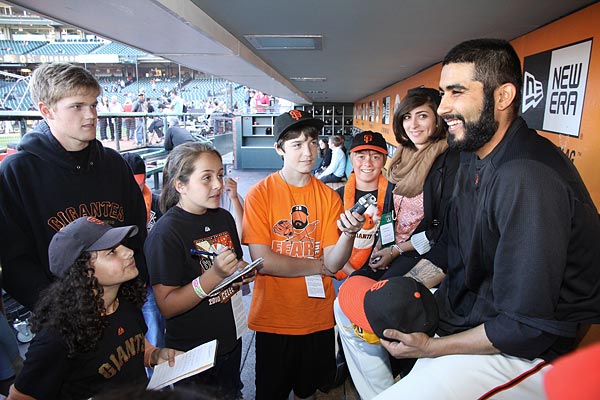 Sprinting in with all the players after batting practice a man with a beard sprinted down some stairs, flew by us, and sat down on the bench. "You guys want an interview?" Who else than Sergio Romo. He wasn't always a reliever. Romo was a starter for most of his career. In triple-A, one day his coach put him in the bullpen. Then Romo was called up to be a set up pitcher for Brian Wilson. At around the age of eight years old, Romo knew that he wanted to play MLB. But by the age of 20, Romo knew he actually could. Romo and Brian Wilson aren't in any type of contest but Romo commented, "The beard is personality." His idols were his dad and Greg Maddux.
The Giants interview was every reporter's dream. Watching the players warm-up, seeing their batting helmets lined up in the dugout while looking out on the greenest grass and finest infield ever was truly unexplainable. Though we may picture them reveling in their more glamorous routines—like the one we envisioned on our way to the dugout—Giants players have an equally important pre-game routine of relaxing and simply being themselves. Otherwise they lose sight of what they truly love—the beautiful game of baseball.
Watching the game and munching on a churro (or two or three or four), this interview is etched in our minds forever. Ecstatic, we watched the Giants beat the Pirates while we yelled our chants out.. . LET'S GO GIANTS!