Page 2 of 3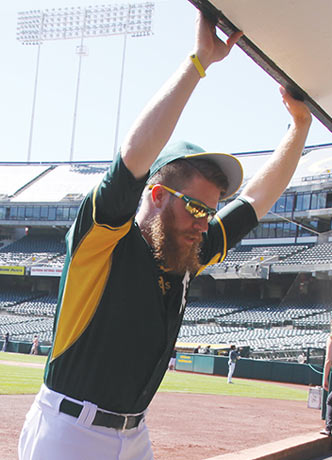 Adam let us know we'd be interviewing Sean Doolitte (#62) down on the field in a few minutes. The excitement built up as we walked down and observed a tall glass case with Doolitte's #62 jersey pinned up prominently for viewing. Upon arriving onto the field, we glanced over and saw the dugout, then proceeded to take our seats on the benches—right where the players would be sitting in an hour. Within a few minutes Oakland A's star closer Sean Doooooooooolittle (at least, that's how most A's fans pronounce it) arrived with a friendly smile and hello.
Doolittle's beginnings in baseball started all the way back when he was a kid, when his father taught him to play and he always had someone to play with, his little brother. He ascended as a two-way star, excelling at pitching. However, when the A's drafted him out of the University of Virginia, they had him focus on hitting, and he grew to be a solid prospect. However, that's when it all went downhill.
Injuries may be the hardest part of being a professional athlete, and Doolittle would find that out soon. In 2009, he missed most of the year, and in 2010, he missed all of the year while rehabbing from two knee surgeries. This emphatically ended his hitting career, so Doolittle had no choice but to convert back to pitching if he wanted to continue his big-league career. He told us, "I've had three serious injuries, so I realize how fragile things can be, I've seen this from a unique perspective." Doolittle explained how overcoming these obstacles has made playing the game more rewarding.
After just 25 innings in the minors in 2012, Doolittle was called up to the majors. You may wonder why 25 innings were enough to convince the Athletics that this player who had barely played in the past two seasons would be able to cut it in the MLB. Here's why: In those 25 innings, Doolittle posted an incredible 0.72 ERA, or Earned Run Average. If you don't know what that means, to put it in perspective, the best major-league ERA that's ever been recorded over a full season was 0.60. Doolittle quickly became a top relief option for the Athletics, and over the past three years has been A's Manager Bob Melvin's most trusted reliever. In 2014, after serving in a closer-by-committee role, the A's named Doolittle the closer, and he hasn't looked back, saving nine games this year.