ON LOCATION - September, 2016
Interview with Oakland A's Pitcher John Axford
By Arjun Ajula, Parker Bizjack, Becky Booth, Ryan Copeland, Ben Horsey, Liza Lachter, Logan MacKinney, Jonathan Palfy, Julian Reiss, Giselle Turchon, Wesley Slavin
The warm sun beats down on the huge green field. The A's flag ripples high in the sky in the slight breezy air. The sweet smell of fresh cut grass drifted through the air, with bright neon signs everywhere—"HOT DOGS, CANDY, POPCORN! The sound of balls being hit by bats rings in our ears. The smell of hamburgers and pretzels fills the air. Excitement for the game to start spreads across the crowd. This is the Oakland Athletics stadium.
The A's stadium has many people working, all contributing to pull off the games flawlessly. There are over 100 people working in the Press Box, all handling different responsibilities relating from equipment to the multitude of written and electronic presses. The people in the media press box make sure all the information is accurate on the scores and the end result of the game. "This stadium is actually one of the oldest still being used for games," said Adam Loberstein, head of PR for the A's.
The A's stadium is usually packed on Friday's, weekends and for an important game. The A's play in the night mostly and when we met them, they were heading into nine home games. There are 30 major league baseball teams. "It's a huge, huge stadium. Most stadiums hold up to 40,000 seats—this place can hold up to 63,000," Adam says.
This is the home and haven of A's relief pitcher John Axford, known as The Ax Man, and after playing on five teams, this is where he has come to play now. We were excited to meet him on the field of the A's before a game for an interview.
FF – What's your favorite part of baseball?
JA: There are a lot of different things that are fantastic about it.—a big ones is travel. I get to experience a lot of different places, get to see a lot of things in many different cities.
FF – Your inspiration to pursue baseball?
JA: I'm Canadian, so I wanted to be a hockey player first. My grandfather was really big into baseball. He played a lot when he was younger. My dad had a bunch of old photos of him, including his old gloves from the 1940s, 1950s, so they'd be in the house on display. There was a picture of my grandfather, black and white, with his team when they won a championship. Seeing those were pretty cool, getting to feel a little bit of the nostalgic part of baseball and learning about the history. That's what really started driving me into loving the game.
FF – Your Consecutive Saves Stat?
JA: It was great. It's one of those things that really comes together with your team. It's not so much about me or what I did exactly. I had the help of my teammates—I could not have done it without them. If I was able to strike everybody out, then you don't have to rely on the guys behind you. That's not the case here. You've got to pitch the ball that the guys put into play and let your teammates do the work behind you, so I attribute a lot to them. For me, it's more about a team accomplishment even though it's kind of an individual stat.
FF – What team did you love growing up?
JA: I was a Blue Jays fan growing up. I grew up in Canada, just outside Toronto and was about ten years old when the Blue Jays won the World Series. It was prime time for me to really love and enjoy the game. Watching those games, watching them win the World Series, staying up late in my parents' living room—that was fantastic.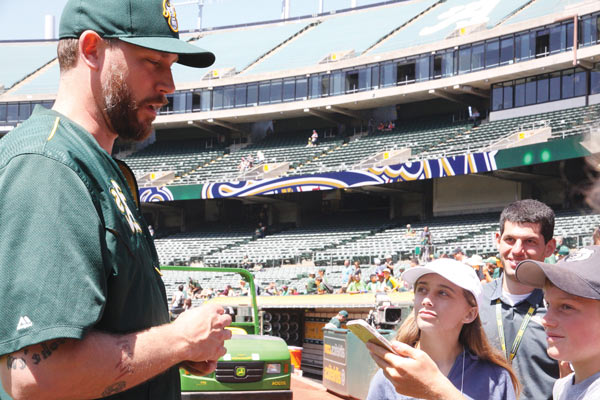 FF – Favorite baseball player as a kid?
JA: I loved all the Blue Jays. I knew their entire lineup at the time, through '92 and '93—all the pitchers. One of my favorites was Nolan Ryan because my dad watched him and liked him a lot through the '70s and '80s. Then I watched him through the early '90s when he was still pitching, when he was 45 years old, around 1995. It was great to watch how hard he worked and how much he worked to accomplish what he did and how great he was.
FF – What's it like getting called up to the Major Leagues?
A: That was great. I wasn't too sure if baseball was going to work out for a while for me when I was in college. I had surgery on my elbow and I was doing other jobs. I sold cell phones for a while. Six months before I was called up to the big leagues, I was a bartender and a server at a restaurant. It was a huge dream come true, something that I was working for and trying for a long time. For it to actually come to fruition and work out was amazing.
FF – Why did you choose to play for the A's?
JA: I was a free agent. I had a few different teams that I had the opportunity to sign with. I've always enjoyed the Bay Area. I wanted to experience California and experience the Oakland Athletics. The team was great, made the playoffs in 2012, 2013, 2014, although they had a tough year last year. So for me that was a big thing. Most of the team coming back, the opportunity to make the playoffs and play on a good team and, in California. It was something I wanted to do and experience.
FF – Is playing for the A's a different experience than other teams?
JA: It's always a fun and different experience. Right now, the best experience is being in California. You get this lovely weather, a cool breeze, it doesn't get too hot. I've always liked coming here, visiting and playing here; for me to be able to experience California and the weather has been one of the best parts.
FF – Describe the transition to the A's.
JA: It was pretty easy, actually. The guys in the clubhouse are pretty fantastic. I've been on a few different teams the last few years, so trying to be open, talk to guys, share different experiences, share what it's like on other teams. This clubhouse, this group of guys is really easy to talk to.
FF – How many practices are there a week?
JA: Every day that we have a game we have practices as well, so it's almost every day. Sometimes six days a week if we actually get a day off.
FF – Is it tough playing on the road with travel and time changes?
JA: It can get tough, especially when you're on the West Coast and you have to travel east. You lose three hours. Sometimes you get in pretty late. Major League Baseball's done a really good job trying to schedule our flights and schedule our actual games appropriately so you don't get in too late, but there's still trips where you'll land at three in the morning. You have to play the next day, so you have to make sure you get enough rest, acclimate, get your body ready, treat it the way you want to, to make sure you can keep playing and keep going. Those trips can be fun, too, but they can definitely be tiring.
FF – Any superstitions you do before you play?
JA: I used to have a lot in college. It was probably too many and it drove me crazy, so I think I just started cutting them all off. Once I became a relief pitcher, I moved a lot of those superstitions to the side but there's definitely some things I still do. I still wear the same undershirt. I wear the same cleats, the same socks, the same glove. This glove that I play catch with is not the same glove I use when I play in the game, so I have a catch-playing glove and then I have a game glove. I chew a piece of gum—the same brand of gum, when I'm out there on the mound.
FF – What do you do before the game to get pumped up?
JA: In college. I would listen to really loud rock music. I'll still do that once in a while, but I've kind of moved away from that. For me now it's more about my mentality when I'm there in the bullpen, when we're sitting out there. I can joke around, goof around, have a good time, but once I know it's about time for me to go in or if the innings are coming close, I turn my mind off of everything else and start focusing on baseball. And I think that is kind of what gets me pumped up internally that way instead of using some other external source.
FF – Any advantages or disadvantages of playing against your former team?
JA: Both, actually. I pitched against two teammates last night. Both of them got hits off me. But I've also faced those guys before and struck them out before, so they know what I'm going to pitch. I kind of know the way they hit, and sometimes, I don't know. It can be a guessing game as to what they're going to do or what I'm going to do. It can be fun, especially when you're friends with them, having those bragging rights as to whether or not you got them out or maybe they got a hit off you. You can text each other after and make fun of each other. That's fun to do. But in the moment, when you're out there on the mound, it's all about the competition and just trying to get them.
FF – How do you balance your personal life with baseball?
JA: That can be really tough sometimes. Fortunately you get the offseason to get some time, but my oldest son is in school right now and I live in Canada so they're back home in Canada a lot of the time. They've been down a few times this year to hang out. When summer comes, they'll be able to be here most of the time. It can be difficult to balance those things. Just like everybody else, you have other issues off the field, some good, some bad; whatever it is you just have to try and leave it there when you're on the field and just focus on baseball.
FF – What do you like to do on your off days?
JA: I have two young boys so we sometimes we go into to the City and hang out. If we have an off day in a different city, I'll try to experience something in the city at a museum that I've never experienced.
FF – What do you hope for in the future for yourself and the A's?
JA: For myself, I hope to stay as healthy as I can for as long as I can so that I can keep playing. Fortunately I've been able to do that and be diligent in my work. For the A's, we've had an up-and-down season. Hopefully we'll be able to put a halt to the down parts. Obviously there's always going to be losses. We're not going to win every game from here on out. But being able to get the streaks that we were able to get on earlier, win those games, five in a row, if you lose one, just stop it right there and keep going. And I think this team is capable of doing that. We just have to find that mix and stay on track.
The Oakland A's have won nine World Series championships over the course of this historic franchise. With the recent success that the A's have had over the past couple years, Axford hopes that the A's can return to their winning ways in the past and win a World Series might become a reality. Go A's!