Page 1 of 4
FastForward Adventure Reporters interview Michael Morpurgo, the author of "War Horse"
A&E FEATURE - August 2012
By Benjamin Horsey, Katrina Horsey, Sabrina Hao, Paul Law, Alexandra Lee, Max Alexander, Emile Alexander, Nicholas Michael, Elias Michael, Melanie Kessinger, Alexandra Kitze, Sarah Knopf, Alana Swyulak, Gracie Ramos and Ellie Wynne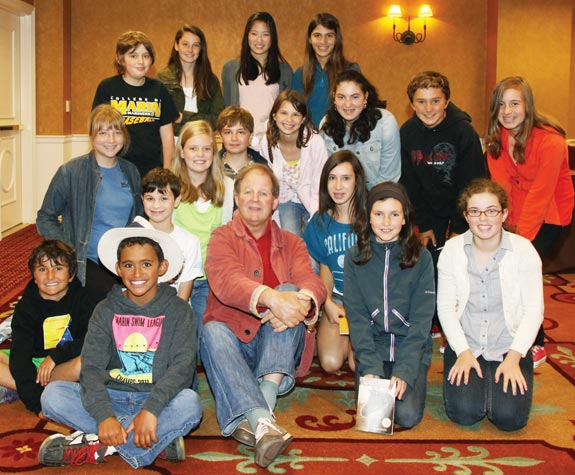 We were expecting a celebrity. Images of famous people swirled in our imagination. As he entered the room, our misconceptions of fame were dashed. We could see right away he was a different kind of celebrity. He looked like someone who lived and worked in the country, from his plain, red button-down shirt to his well-worn sneakers. He spoke softly and shook everyone's hands, kids and adults alike. Then, before he could even sit down, he launched into a story. All eyes went to him. The humble storyteller commanded our attention effortlessly.
"The problem with really famous people," Michael Morpurgo said, "is that we think they're different from us. They're not."
Michael Morpurgo is the author of War Horse, a best-selling book for young people that has been turned into a play and an award-winning movie directed by Steven Spielberg. The story takes place during World War I and explores the relationship between a farm boy, Albert, and his horse, Joey. The pair are torn apart by the war, their lives are redefined by the war, but Morpurgo said War Horse was meant to be a story about peace, not a story about war. 
Morpurgo was born in 1943 in England, in the middle of the Second World War. Although he doesn't remember the war, he said that everyone around him was affected or knew someone who had died in the war.
"The suffering of war," Morpurgo said, "the grief of war is all around you."