Page 5 of 5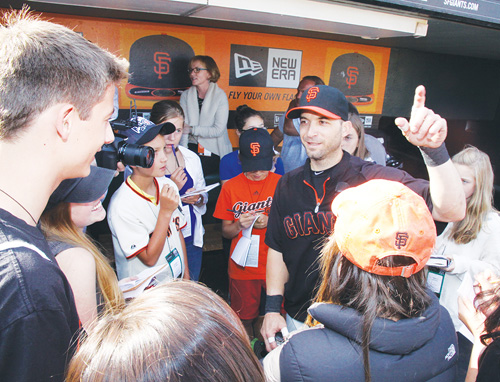 Even though press doesn't usually get to talk to the starting pitcher because of their intensity and need to focus, Matt Cain came over and belted out, "Whatcha got?" His favorite moment playing for the Giants was when he threw the perfect game in 2012. He could not find anything that could top that amazing feat. When we inquired about the challenges he faces, he replied, "Every day, you don't know what's going to happen."
Venezuelan infielder Marco Scutaro said what sets the Giants apart from other teams is the chemistry between players. He also joined the Giants in 2012 and credits his older brother for getting him into baseball. His favorite Giants memory is also winning the 2012 World Series.
Although many players dreamed of being a Giant, they worked hard and kept at baseball through hard times to get to where they are today. Even as a star it's difficult, because they make sacrifices with their families, yet they still find ways to give back to the community.
Although being a baseball star is a dream fulfilled, the work isn't over, as these players strive to help others fulfill their dreams. Watching Brandon Crawford laugh and make jokes while fielding a groundball and throwing to first base, or Pablo Sandoval crushing a baseball into McCovey Cove in batting practice, or even Buster Posey simply stretching his legs, was a dream come true for us. Interviewing our favorite team and learning what it's like to live the dream of playing baseball on a major league team—to learn there are many challenges that come with the success—as well as the steady physical and mental work that is endured daily—will be etched in our minds forever.